Jersey Mike's Raises Over $7,000 for Evangelical Community Health and Wellness
May 08, 2017
---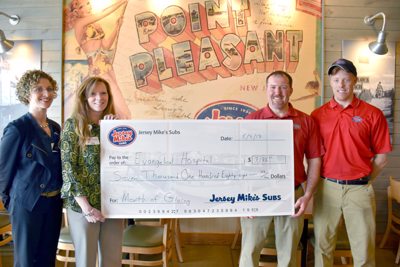 Lewisburg, PA - Jersey Mike's Subs, known for its fresh sliced/fresh grilled subs, held a Month of Giving that included a Day of Giving event where 100% of sales were dedicated to giving back to the local community. The franchise, owned by Matt and Kristie Patterson with operating partner, Tim Miller, chose Evangelical Community Health and Wellness as the recipient of those funds.
"At Jersey Mike's, being a good community partner is in our DNA. We like to think that we can make a difference one sub at a time. So when we were looking a charity partner for our annual Month of Giving, Evangelical Community Health and Wellness was a very good match. Its core values including integrity, respect, cooperation, and quality service really resonated with our team," said Matt Patterson.
When all of the numbers were tallied, $7,188 of donations were collected to support the work of Community Health and Wellness. The monies will be used to fund classes, workshops, screenings, support groups, and offerings to individuals of all ages and organizations that promote healthy lifestyles.
"We are honored that Jersey Mike's chose to support the Hospital and its work," said Sheila Packer, Director of Community Health and Wellness at Evangelical. "It's through generosity such as theirs that we can impact the community in such a substantial way. Our goal is to do all that we can to promote health in our community in interesting and creative ways and these dollars help us to succeed in those efforts."
Miller of Jersey Mike's, said, "It is an honor to partner up with Evangelical Community Hospital and to show our support of an organization that has historically tended to the well-being of the community."
Started in 1956, Jersey Mike's now has 1,500 restaurants open and under development nationwide. In 2015, for the second year in a row, the company was named the #1 fastest growing chain in the Nation's Restaurant News Top 100, and continues to win best sub awards in virtually every market it enters.