33rd Annual Evangelical Golf Classic Raises Funds For Lifesaving Services
August 12, 2019
---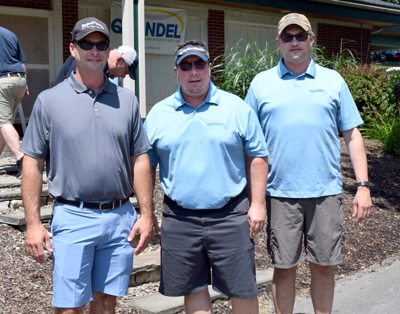 Evangelical Community Hospital hosted its 33rd Golf Classic on Friday, August 9, 2019, at the Bucknell Golf Club. The event was a great success, with 200 golfers raising $40,000 after expenses for Pre-Hospital Services.
Awards were given to the top three teams in the morning and afternoon flights.
Morning winners were: first flight – RCM&D Insurance, Arraya Solutions, and Griffith Development, with second flight winners being the Musser foursome, the Members Choice Financial Credit Union-Hoeger foursome, and Quandel Construction Group Team 1. Afternoon winners were: first flight – Mifflinburg Bank & Trust Team 1, the Patterson foursome, and Purdy Insurance, with second flight winners being Selinsgrove Ford, Zartman Construction, and the Centurion-T-Ross Brothers Construction foursome.
Held annually, the Golf Classic raises funds for life-sustaining treatments performed by trained paramedics and emergency medical technicians at the scene of an emergency. These emergency responders also provide vital patient information to Emergency Department personnel before the patient arrives at the Hospital.
Evangelical's Pre-Hospital Services staff answer over 12,000 calls per year with 50 percent of those being medical emergencies, 40 percent being trauma, and 10 percent classified as other. The calls included medical emergencies such as stroke and heart attack, trauma incidents from motor vehicle accidents, falls, assaults and sports injuries, miscellaneous injuries such as animal bites, drowning, and electrocutions, drug overdoses, and stand-by incidents such as fires and law enforcement requests where injuries may occur during response.
All of Evangelical Community Hospital's paramedics are nationally registered and cover territories in Lewisburg, Watsontown, Mifflinburg, White Deer Township, Milton, Middleburg, New Columbia, and the surrounding areas.
"For our team to be part of an organization that supports lifesaving care and is willing to grow the Pre-Hospital Services program through equipment, technology, and training is an honor," said Nick Klose, Director of Pre-Hospital Services. "We're looking forward to even greater development of the Hospital's emergency response program through the establishment of Evangelical Regional Mobile Medical Services, which is designed to work with our local communities to provide the support they need."
This year's golf event raised funds through registration, featured on-the-course contests, and sponsorships from individuals and businesses.
Contest winners were: Jay Reed and Greg Klebon got closest to the pin; Jim Gaughan and Chris Fellon were closest to the line; Derrick Geedey, Jeff Ryan, Kelly Griffith, and Carol Slear had the longest drive; and Lee Zimmerman and Brian Wolfe won the putting contest.
Quandel Construction Group, Inc., served as the main sponsor of this year's Golf Classic.
"Over the years, this annual event has raised over $997,000 to support Evangelical's Pre-Hospital Services department," said Donna Schuck, Associate Vice President/Chief Development Officer at Evangelical. "We are extremely grateful to the sponsors, participants, and donors whose contributions make the tournament a great success. While our golfers have a fun day, the funds raised by this event support lifesaving services to our neighbors and friends in their greatest time of need."
Anyone wishing to make a donation to Evangelical Community Hospital's vital programs should contact the Development Office at 570-522-2685 or visit www.evanhospital.com/support.