Carpetman of Milton Gets Personal with a Donation to the Thyra M. Humphreys Center for Breast Health
November 20, 2017
---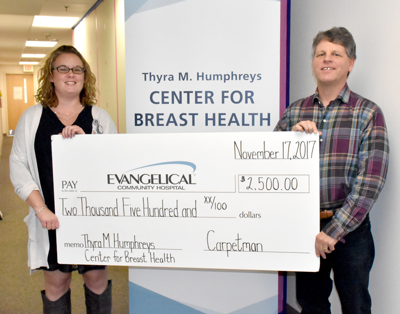 Throughout the month of October Carpetman of Milton took on the challenge to raise funds in the fight against breast cancer. The family-owned business, founded in 1972 by Sonny Davis, is now run by his son-in-law, John Supsic.
Breast cancer hit the Supsic family in 2015 and shook up the strong family from Northumberland. Tracy Supsic, John's wife, turned to the Thyra M. Humphrey's Center for Breast Health at Evangelical Community Hospital for treatment. Over the next couple of months, Tracy received treatment and now in 2017, Tracy is cancer free.
For the family, giving back to the Center for Breast Health expresses their gratitude for Tracy's return to health. Carpetman gave back a portion of every sale made in October, with the grand total raised being $2,500.
According to John, the business looks forward to making this an annual campaign to give to the Center for Breast Health.
Donations to the Center for Breast Health provide mammograms and breast imaging to women who are uninsured and underinsured, support the cancer survivorship program that provides extra services beyond medical to those diagnosed with cancer, and to offset the cost of equipment and technology that allows the Center to remain a comprehensive and modern facility serving the needs of the community.
For more information about the Thyra M. Humphreys Center for Breast Health or to schedule a mammogram, call 570-522-4200.
PHOTO: Michele Heimbach, Navigator and Surgery Scheduler at the Thyra M. Humphreys Center for Breast Health accepts a donation from John Supsic, owner of Carpetman in Milton. During the month of October, a portion of the proceeds from every sale was collected to give back to the Center for Breast Health to provide screenings for and to help women who may be facing a breast cancer diagnosis.