Girl Scouts Presentation
November 05, 2018
---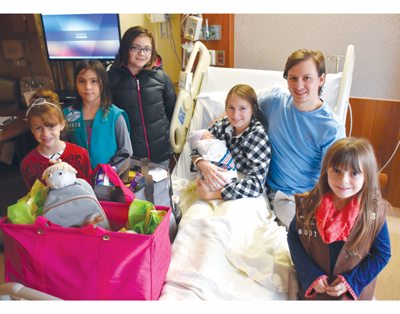 A special presentation was made this week at Evangelical Community Hospital's The Family Place. Girl Scouts from Montgomery troops 60070, 60071, 60072, and 60073 presented the first baby girl born on October 31, 2018, with two special baskets full of goodies. The gift honors Juliette Gordon Low, the founder of The Girl Scouts, who was born on October 31st.
The girls presented their specially chosen gifts to mom, Brooke Zimmerman, dad, Dakota Noll, and baby Adelaide of Mifflinburg. Adelaide was born October 31, 2018, at 6:51 am, weighing 7 lbs., 13 oz., and measuring 19 inches in length.
PHOTO: Girl Scouts Maci Decker, Jean Mathis, Sarah Haskins, Adelaide, Brooke, Dakota, and Girl Scout Chloe Kauffman.