Jersey Mike's Raises Over $8,000 for Evangelical Community Health and Wellness
May 15, 2018
---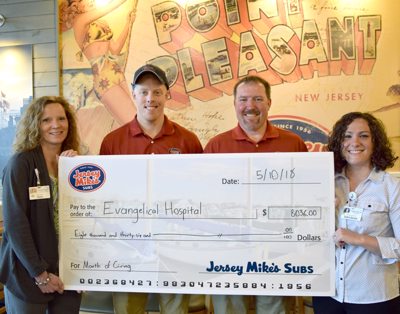 Jersey Mike's Subs, known for its fresh sliced/fresh grilled subs, held a Month of Giving in March that included a Day of Giving event where 100% of sales were dedicated to giving back to the local community. The franchise, owned by Matt and Kristie Patterson with operating partner, Tim Miller, chose Evangelical Community Health and Wellness as the recipient of those funds.
"It is always an honor to support Evangelical Community Hospital's health-related programs directed at the community," said Matt Patterson. "We're excited that the effort grows every single year and once again, we've exceeded last year's donation. Giving back through the Day of Giving is our way of supporting the community in which we work."
When all of the numbers were tallied, $8,036 of donations were collected to fund the work of Community Health and Wellness. The monies will be used to fund classes, workshops, screenings, support groups, and other offerings to individuals of all ages and organizations.
"We are honored that Jersey Mike's chose to support the Hospital and its work," said Sheila Packer, Director of Community Health and Wellness at Evangelical. "It's through generosity such as theirs that we can impact the community in such a substantial way. Our goal is to do all that we can to promote health in our community in interesting and creative ways and these dollars help us to succeed in those efforts."
Miller of Jersey Mike's, said, "It is an honor to partner up with Evangelical Community Hospital and to show our support of an organization that has historically tended to the well-being of the community."
Started in 1956, Jersey Mike's now has 1,500 restaurants open and under development nationwide. Matt and Kristie Patterson, currently own seven stores and in the near future will add three more to their ranks.
PHOTO CAPTION:
Tim Miller, Operating Partner of Jersey Mike's in Lewisburg, and Matt Patterson, Jersey Mike's Owner (center), present Sheila Packer Director, Evangelical Community Health and Wellness (far left) and Andrea Dougherty, Development Systems Analyst, Evangelical Community Hospital (far right), with their generous Month of Giving donation. The funds will be used to continue outreach for healthier living in the community. For more information on those programs, visit www.evanhospital.com.