Lewisburg Couple Name Orthopaedic Unit
January 29, 2020
---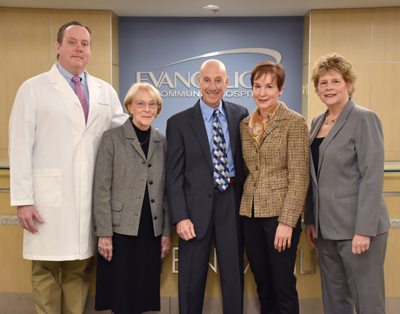 Pictured from left to right: Todd Stefan, MD, and Martha Barrick, Co-Chairs of the Enhancing the Evangelical Experience Capital Campaign Council; Dr. John and Mrs. Elizabeth Furia, donors; and Kendra
Evangelical Community Hospital wishes to extend appreciation and recognition to John P. Furia, MD, long-time provider and surgeon at SUN Orthopaedics of Evangelical, and Elizabeth "Liz" Long Furia, owner of Elizabeth's An American Bistro, for their generous contribution.
As a result of Dr. and Mrs. Furia's significant donation to the Enhancing the Evangelical Experience Campaign, patients seeking orthopaedic care and who require time in the Hospital will begin their healing on The John P. Furia, MD and Elizabeth Long Furia Orthopaedic Unit.
The specialized unit will be located on the fourth floor of the Patient Room Improvement, Modernization, and Enhancement (PRIME) expansion and provide 24 private rooms, each with their own bathroom. Each patient room will be spacious, approximately 250 square feet, telemetry capable, and offer a sofa/sleeper for a family member who wishes to remain at their loved one's bedside. One of the amenities included in the unit will be a rehabilitation space dedicated to the unique needs of orthopaedic patients.
For the Furias, an important factor in making a lasting gift to PRIME was their respect and appreciation of the staff at Evangelical Community Hospital.
"It's been an honor working with the staff at Evangelical over my decades of delivering orthopaedic care," said Dr. Furia. "It's because of their dedication and commitment to the patient—placing them at the center of everything they do—that Liz and I made a decision to give a gift that allows the Hospital to remain atop-choice in healthcare for the community we love."
Thanks to their gift and those of others to the Enhancing the Evangelical Experience campaign, PRIME and the Hospital's community care programs will continue to have a great impact on the health and wellness of the Greater Susquehanna Valley long into the future.