March of Dimes Thanks Evangelical Community Hospital For Caring For Babies
November 21, 2017
---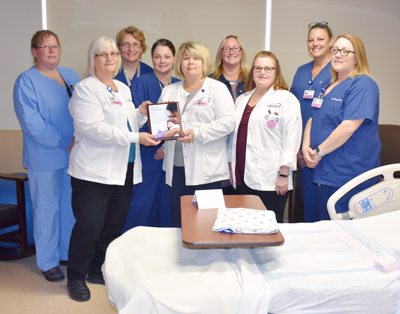 Recently the Northeast PA March of Dimes visited The Family Place, the obstetric unit of Evangelical Community Hospital, as part of their Day of Gratitude effort to show appreciation for the staff and to bring awareness to the issue of premature births.
According to the World Health Organization, every year an estimated 15 million babies are born preterm (before 37 completed weeks of gestation), and this number is rising. Preterm birth complications are the leading cause of death among children under 5 years of age, and were responsible for nearly 1 million deaths in 2015.
The March of Dimes aims to reduce preterm birth rates across the United States to 8.1 percent of live births by 2020. Every baby in Pennsylvania deserves the chance to be born healthy. The March of Dimes of Pennsylvania states that in 2015, 1 in 11 babies (9.4% of live births) was born preterm in Pennsylvania.
During November, Prematurity Awareness Month® the March of Dimes focuses everyone's attention on the serious issue of premature birth and what healthcare providers are doing to aid in the fight to decrease the number of preterm births and to ensure that preterm infants are given the best chance possible for a healthy future.
The March of Dimes of Pennsylvania presented a plaque to the staff of The Family Place as an expression of thanks to the doctors, nurses, and other healthcare professionals for all they do each day as they care for newborns and their families.
Loretta Aurand, Director of Maternal and Child Nursing at The Family Place said, "Our family of staff continue to promote and encourage mothers to go to 39 weeks. Research shows this milestone in the pregnancy encourages strong brain, body, and emotional development. In cases where it's not possible to go the 39 weeks, we work one-on-one with families and the new baby to ensure that all prematurity concerns are addressed. For us, it's an honor to be part of any birth and to work with families to start them off on a healthy note."
PHOTO: Evangelical Community Hospital's The Family Place staff accept a plaque from the March of Dimes on behalf of their work to prevent premature births. Pictured from left to right: Valerie Sprenkel, Unit Assistant; Loretta Aurand, MSN, RN, Director of Maternal Services; Karin Ede, BSN, RN; Jamie Hess, RN; Susan Payne, MSN, RNC-OB staff education; Kristen Lahr, BSN, RN; Kelly Everett, RNC, BSN, IBCLC; Andrea Valentine, RN; and Nichole Pirraglia, BSN, RN.
The plaque was presented as part of the March of Dimes Day of Gratitude effort, thanking local hospitals for the work they do each day to bring healthy babies into the world.