Ta-Ta Trot Funds Support The Thyra M. Humphreys Center for Breast Health
January 15, 2018
---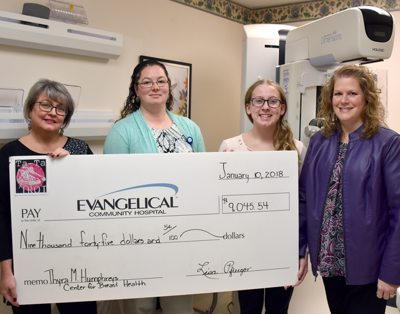 Lisa Pfleegor, Chairwoman of the Ta-Ta Trot 5K Run/Walk, presented a check for $9,045.54 to The Thyra M. Humphreys Center for Breast Health at Evangelical Community Hospital in support of its breast cancer programming.
The Center holds a series of events throughout the year to support anyone diagnosed with cancer. From the day of diagnosis, patients of the Center are considered survivors and staff focuses on providing a comprehensive approach to care including tending to the medical, physical, emotional, and psychological needs of each and every patient.
Founded in 2010, the Ta-Ta Trot annually raises funds for breast care initiatives. The eighth annual Ta-Ta Trot was held in Selinsgrove. The funds raised through the event support breast cancer initiatives happening in the region. The over 1,300 participants were offered the opportunity to choose what their registration and raised dollars would support and Evangelical's Thyra M. Humphreys Center for Breast Health was one of those local options.
The 2018 Ta-Ta Trot is planned for Saturday, July 14, 2018, in Selinsgrove, with open registration beginning in February.
Pictured from left to right: Andrea Bertram, Operations Director of Women's Health and Cancer Services at Evangelical Community Hospital, Katrina Emery, Office Coordinator of the Thyra M. Humphreys Center for Breast Health at Evangelical, accepted the Ta-Ta Trot donation of just over $9,000 from Claire Schmoke of Sunbury and Ta-Ta Trot Chairwoman Lisa Pfleegor.