Daphyne Ressler, RN, BSN, CCHM, Named Director of Medical Ambulatory Surgery and Endoscopy
January 17, 2020
---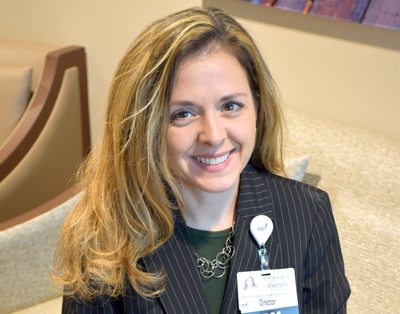 Daphyne Ressler, has been named Director of Medical Ambulatory Surgery and Endoscopy and began her duties December 15, 2019.
In this role, Ms. Ressler is responsible for the overall operations, leadership, planning, direction and management of the Ambulatory Surgical Center and Evangelical Community Hospital's Endoscopy Center.
Ms. Ressler received her diploma in nursing from Geisinger School of Nursing in conjunction with Penn State University and went on to receive her Bachelor of Science in Nursing Degree from Chamberlain University in conjunction with DeVry University. She is currently enrolled and pursuing her Master of Science Nursing Degree, Nurse Executive Leadership track, from Chamberlain University with a slated graduation of February 2020. She is a Construction Infection Control Training Institute Certified Healthcare Manager (CCHM) with special training in all levels of management geared to optimal infection prevention and reducing infection risk.
A member of the Evangelical family of employees since 1997, Ms. Ressler brings with her over 20 years of clinical nurse experience and three years of management experience to the new role. Prior to her promotion she served as the Evangelical Ambulatory Surgical Center Nursing Surgical Services Manager.