Evangelical Community Hospital Mentors and Supports Newly Graduated Registered Nurses
September 13, 2018
---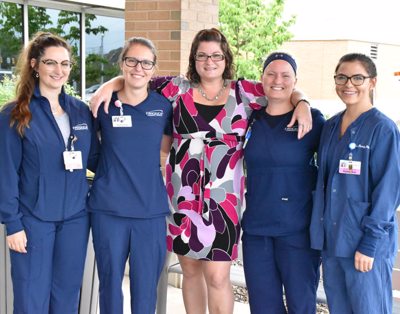 Several graduate nursing students recently took part in Evangelical's Building A Safe Environment (BASE) class. The program is held each year for new and recently hired graduate RNs (nurses who have completed their education but are new to the profession of nursing).
The program meets once a week for 10 weeks and serves as a support system to the nurses as they prepare for their careers as RNs at Evangelical Community Hospital. During the sessions, the nurses, who provide care in a variety of care settings, hear from guest speakers who talk with them about real world experience and what they can expect while working with patients and physicians.
The sessions are also an opportunity to have open discussions about how to prepare for the board exam and allows them to ask questions and identify areas that will help them find success. The entire program is built around the concept of establishing relationships and creating a safe environment where honest concerns and feedback can be shared and addressed.
Lori A. Berger, RN, MSN, CRNP, Clinical Education Manager at Evangelical said, "The BASE program is a vital part of building confidence in our aspiring RNs. It serves as a framework of support as they hear from fellow nurses who are going through the process of certification and from physicians and experienced nurses who can give them first-hand knowledge of what to expect in their career."
She continued, "At Evangelical we've found that by putting in the time to mentor and support up-and-coming nurses, they feel more confident in their skills and more prepared to handle the day-to-day details of being a caregiver for our patients."
PHOTO: The 2018 Building a Safe Environment Class, pictured from left to right: Carra Rishel, RN; Logan McGlaughlin, RN; Tasha Douty, RN; Melanie Hons, RN; and Morgan Unger, RN.
Not pictured: Stacey Fisher, RN; Amy Gardner, RN; and James Strouse, RN.