Evangelical Regional Mobile Medical Services Receive Pennsylvania CARES Award
November 20, 2019
---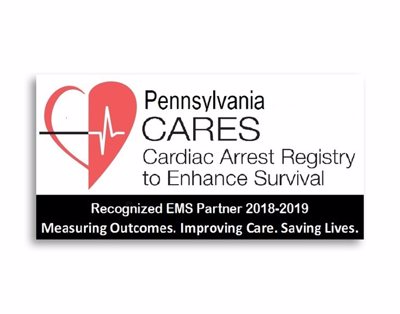 Evangelical Regional Mobile Medical Services (ERMMS) has received the Pennsylvania CARES Award. The award acknowledges the agency's dedication to collecting out-of-hospital cardiac arrest (OHCA) data for quality improvement purposes. ERMMS is one of 145 EMS agencies across the Commonwealth honored by Pennsylvania CARES.
Each year, more than 350,000 people in the United States experience an out-of-hospital cardiac arrest. By participating in Pennsylvania CARES, Evangelical Community Hospital through ERMMS demonstrates commitment to saving lives by strengthening the links in the OHCA chain of survival.
Pennsylvania CARES is a statewide partner of the Cardiac Arrest Registry to Enhance Survival (CARES), a national cardiac arrest registry that allows communities to measure bystander and 911 response, including information about bystander CPR and AED application, telephone CPR, and EMS response. Using this information, EMS agencies can discover promising practices and implement new programs to improve emergency care for patients in their communities, and participation in a national registry is recommended by the Institute of Medicine.
Recipients of this year's Pennsylvania CARES Award successfully participated in the registry for the 2018 calendar year and are commended for collecting data, in collaboration with and on behalf of Basic Life Support (BLS), first responder, and community partners, to measure outcomes, improve the quality of care, and save lives.
"We are proud to be named as a recipient of the Pennsylvania CARES Award," said Nick Klose, Clinical Director of ERMMS.
"As emergency responders, we have the unique opportunity to bring medical care to patients outside of the Hospital setting. It is a priority for us, to not only provide excellent care, but to also capture and report data that can assist all Pennsylvania hospitals and their emergency response personnel in creating better response systems focused on the patient that can ultimately aid in increasing survival."