Evangelical's Rehabilitation Team Presented Excellence Award
October 08, 2018
---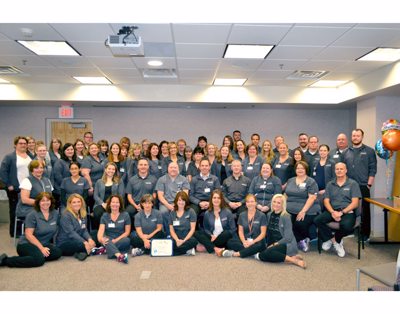 Evangelical Community Hospital's inpatient and outpatient rehabilitation experts, including Physical Therapy, Speech Therapy, and Occupational Therapy was recently awarded the Team CHOICE Award for the first quarter in fiscal year 2019.
The Team CHOICE Award is given to a department in recognition of the excellence the team displays in the areas of Communication, Hospitality, Ownership, Integrity, Confidentiality, and Empathy. This award is presented quarterly from nominations received from employees throughout the Hospital.
Rehabilitation experts treat patients who are recovering from a variety of issues, including stroke, total joint replacements, fractures, trauma, amputations, general weakness and debilitation, and compromised cardiovascular and respiratory function.
"This team truly cares about their patients, striving to provide the individualized care needed to help them achieve a successful recovery, as soon as possible. They take the time to get to know the patients personally, in order to make them feel comfortable and gain their trust," said Angela Lahr, Associate Vice President of Clinical Operations.
Nominations for Team CHOICE Awards are accepted and reviewed each quarter by a committee of previous Employees of the Month and individual CHOICE Award Winners. The review committee looks for teams that consistently deliver on the Hospital's strategic priorities and contribute to the goal of being in the Top 10% nationally for patient, employee, and physician satisfaction.


PHOTO - The Team CHOICE Award was presented to members of Evangelical Community Hospital's Rehabilitation Team. The award recognizes the highest standards of Communication, Hospitality, Ownership, Integrity, Confidentiality, and Empathy. Rehabilitation Services through Evangelical Community Hospital are available at 11 convenient locations throughout the Susquehanna Valley including Elysburg, Lewisburg, Middleburg, Mifflinburg, Mt. Pleasant Mills, Selinsgrove, and Williamsport.
Pictured are the staff who were available during the Team CHOICE presentation. Evangelical's Rehabilitation Services has a full staff of 81 employees who all contribute to the overall success of the team.
Row 1: Lori Foor, Kara Rothermel, Deb Yoder, Kim Kuba, Gretchen Walter, Kim Paige, Janine Fee, Chris Malloy
Row 2 on the chairs: Julie Heim, Mirian Pick, Michon Haupt, Rick Smith, Jim Berry, Aaron Barner, Andy Wirt, Lindie Wynn, Sherri Neece, Tom Orren
Row 3: Teresa Longacre, Kara Long, Julie Charlton, Brenda Dietrich, Haley Phillips, Rachelle Lorson, Carey Napp, Linda Krebs, Cindy Swanger, Kim Kahl, Terri Krawec, Sam Hendershot, Julie Albright, Rachel Reichley, Jodi Stiner, Tabatha Williams, Cody Williams
Row 4: Megan Lauver, Cindy Cullison, Sara Lucak, Brian Berge, Jennifer Jones, Barb Zimmerman, Debi Moyer, Becky Rorke, Heather Wirt, Rondalynn Apple, Bonnie York, Sara Cooper, Wendy McTammany, Kyle Swartzlander, Chris Wenda, Amanda Schroyer, Mike Winn, Sean Ciborowski, Clint Stetler, Jon Apple