Evangelical's Surgical Services Receive 2018 Press Ganey Guardian of Excellence Award
December 11, 2018
---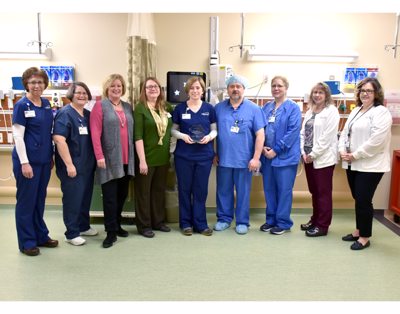 Evangelical Community Hospital is pleased to announce its Outpatient Surgical Services team—including anesthesia, central sterile, one day surgery, operating room, pre-admission care, post-anesthesia care unit, surgical providers, and Evangelical Ambulatory Surgical Center— have been named 2018 Guardian of Excellence Award® winners. The Guardian of Excellence Award recognizes top-performing healthcare organizations that have achieved high performance in patient experience.
The Surgical Services Teams achieved this distinction by sustaining the 95th percentile for each patient satisfaction reporting period of the award year (May 1, 2017- April 1, 2018) for Patient Experience in Outpatient Ambulatory Surgery Consumer Assessment of Healthcare Providers and Systems (OAS CAHPS).
"This recognition from an industry leader in measuring, understanding, and improving the patient experience is a tremendous honor," said Kendra Aucker, President and CEO of Evangelical Community Hospital said. "The award confirms what we know to be true at Evangelical, that taking the time to understand the patient, their concerns, and taking each individual case and making it personal, has an impact on not only the patient's overall experience, but assures quality care."
The OAS CAHPS survey contains 37 questions about the check-in process, facility environment, patient's experience communicating with administrative staff (receptionists) and clinical providers (doctors and nurses), attention to comfort, pain control, provision of pre- and post- surgery care information, overall experience, and patient demographics.
The Press Ganey Guardian of Excellence Award is a nationally-recognized symbol of achievement in healthcare. The award was presented to Nichole Weber, Director of Patient Experience, during the Press Ganey National Client Conference in Orlando, from November 12-14, 2018.
"The outpatient surgical services teams, and all the people associated with making sure our surgical patients receive the very best care, go above and beyond each and every day," Weber said. "This award recognizes that from pre-surgery appointments and tests, to day of surgery expertise, to post-surgical care, our patients are treated like family."
"We are proud to partner with Evangelical Community Hospital to support their mission to provide safe, high-quality, patient-centered care," said Patrick T. Ryan, CEO of Press Ganey. "They are truly dedicated to delivering exceptional care in the communities they serve, and their commitment to capturing and acting on patient experience feedback is a very powerful demonstration of this."

About Press Ganey
Press Ganey pioneered the healthcare performance improvement movement more than 30 years ago. Today, Press Ganey offers and integrated suite of solutions that enable enterprise transformation across the patient journey. Delivered through a cutting-edge digital platform built on a foundation of data security, Press Ganey solution address safety, clinical excellence, patient experience, and workforce engagement. The company works with more than 33,000 healthcare facilities in its mission to reduce patient suffering and enhance caregiver resilience to improve the overall safety, quality, and experience of care.

PHOTO: Representing the surgical services teams, the following individuals accepted the Press Ganey Guardian of Excellence Award on behalf of their areas of work.
From left to right - Lori Ettinger, RN, One Day Surgery; Carol Oberlin, RN, One Day Surgery; Heidi Zimmerman RN, BSN, Evangelical Ambulatory Surgical Center; Kaylene Andrulewicz, Medical Unit Secretary/Team Lead, Evangelical Ambulatory Surgical Center; Jackie Mast, RN, One Day Surgery; Ray Tomaszewski, CRNA, Anesthesia; Faith King, RN, Recovery Room; Karen Turner, RN, Pre-Admission Care; Christine Lash, RN, Pre-Admission Care.