Evangelical's Telecommunications Team Presented Excellence Award
May 30, 2019
---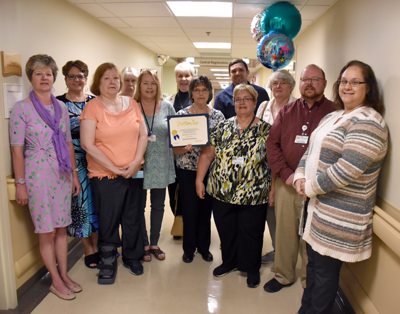 Evangelical Community Hospital's telecommunications experts were recently awarded the Team CHOICE Award for the fourth quarter in fiscal year 2019.
The Team CHOICE Award is given to a department in recognition of the excellence the team displays in the areas of Communication, Hospitality, Ownership, Integrity, Confidentiality, and Empathy. This award is presented quarterly from nominations received from employees throughout the Hospital.
The telecommunications team enhances the patient experience every day by handling hundreds of daily calls through the switchboard, connecting individuals with professionals and information they seek on Hospital services, facilitating emergency responses when needed, and providing excellent customer service during every contact.
"Not only are the Telecommunications Team often the first point of contact with patient and visitors calling into the Hospital, they perform critical communications that must be done both in a timely fashion and accurately. The level of professionalism and service this team provides is an integral part of our health delivery system," said Dale Moyer, Vice President of Information Systems and Chief Information Officer at Evangelical.
Nominations for Team CHOICE Awards are accepted and reviewed each quarter by a committee of previous Employees of the Month and individual CHOICE Award Winners. The review committee looks for teams that consistently deliver on the Hospital's strategic priorities and contribute to the goal of being in the Top 10% nationally for patient, employee, and physician satisfaction.