Evangelical's The Family Place Team Presented Excellence Award
April 18, 2018
---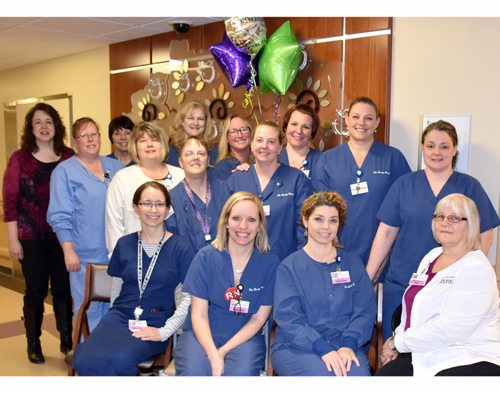 The Family Place team, Evangelical's obstetric unit, was recently presented with the Team CHOICE Award at Evangelical Community Hospital.
The Team CHOICE Award recognizes departments within the Evangelical Community Hospital family of facilities who uphold the highest standards of Communication, Hospitality, Ownership, Integrity, Confidentiality, and Empathy. The CHOICE award is given quarterly to a department out of nominations received from employees and managers.
The staff of The Family Place are essential in creating the family-centered maternity care for which Evangelical is known. They work one-on-one with families expecting newborns to ensure they are cared for in a home-like environment that honors their needs and desires during the birth experience all while providing the education needed to take care of their new baby once they leave the Hospital.
The group was nominated by Loretta Aurand, RN, MSN, Director Maternal Child Services, to receive the honor. In the nomination, Aurand said, "The staff of The Family Place work collaboratively to provide family-centered safe care for mothers, newborns, and their families throughout the birthing process. Their teamwork provides positive experiences for both patients and coworkers. Staff members understand their strength in working as a team involves every member bringing diversity in knowledge, opinions, and problem-solving skills to create the safest and best patient experience."
The award was presented to the team by Kendra Aucker, President and CEO at Evangelical Community Hospital.
PHOTO
Front row: Lilian Stotzfus, Jennifer Sullivan, Aimee Noviello, and Loretta Aurand.
Middle Row: Amy Noaker, Valerie Sprenkel, Susan Payne, Lisa Mills, Tiffany Shoemaker, Andrea Valentine, and Jamie Hess.
Back Row: Linda Ulrich, Pam Luhrman, Kristin Lahr, and Amy Danilowicz.