Hospice of Evangelical Trains Pre-Med Students on Compassion Through Service
October 03, 2019
---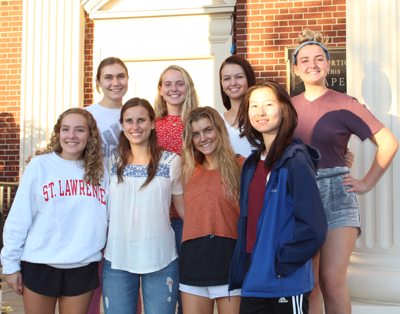 New this year, Hospice of Evangelical and Bucknell University have partnered to bring real-life experience to a future generation of caregivers.
Hospice welcomed 10 new volunteers from Bucknell University through the Pre-Med Hospice Volunteer Program, which is a collaborative effort with Ardmore Presbyterian Church and the Athena Institute for Women's Health. This integrated and wholistic program is coordinated under a grant by the Athena Institute and connects pre-med undergraduates with patients receiving hospice care through hospice volunteer training, regular patient visits, and on-going support.
At Hospice of Evangelical, the Bucknell students serve as volunteers through visits with patients who are in nursing homes and assisted living centers, and in some cases, in the patient's home. During those visitations, the students provide companionship and socialization through reading, playing games, writing down their thoughts, and more. They also give family members a chance to step away from caregiving by stepping in to be with their loved one when they need a break.
The program linking Bucknell and Hospice offers a unique opportunity to meet directly with patients and identify as a caregiver. The overall mission of this program is to instill in pre-med students a sense of humanity and understanding towards the geriatric patient and end-of-life care through hospice service and to provide patients an opportunity to educate these students in how to listen to their needs. The students can serve in this capacity until they graduate, allowing them as much experience they need and the ability to meet the requirements of the program.
Chaplain Kurt Nelson, Director of Religious and Spiritual Life, and Alison Patterson, PhD, Pre-Health Professions Advisor, serve as facilitators for this national program for Bucknell University.
PHOTO:
The first group of pre-med volunteers at Hospice of Evangelical through a new program designed to help future caregivers identify with patients and end-of-life care.
Pictured, front row (left to right): Kat Beck, Apex, NC; Rachel Cohen, Glastonbury, CT; Katie McCartney, Hershey, PA; Stephanie Lin, San Ramon, CA.
Back row, (left to right): Melania Lukianov, South River, NJ; Nina Wilhelm, Jamison, PA; Perry Summers, Cambridge, MD; and Julianna Detrick, Oxford, MI. Not pictured, Defne Sement, Chester, NJ, and Emma Dougherty, Wellesley, MA.