Jennifer Miller RN, MSN, NE-BC, Named Director of Specialty Services and Nursing Quality at Evangelical Community Hospital
March 20, 2019
---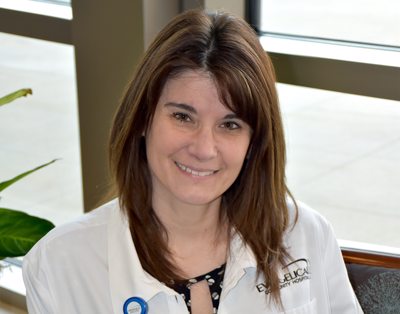 Jennifer Miller, RN, MSN, NE-BC, has been named Director of Specialty Services and Nursing Quality at Evangelical Community Hospital.
In this role, Miller oversees and works in partnership with house supervisors, float pool nurses, and per diem nursing staff.
Under the nurse quality aspect of oversight, Miller works under the direction of the Chief Nursing Officer in driving changes with key nursing individuals and the Department of Risk Management and Quality. Areas of focus include addressing patient care measures such as falls, pressure injuries, medication barcode scanning, and documentation and communication related to change in status.
Miller has been part of the Evangelical family of employees since May 2006. Most recently, she served as Manager of Specialty Services at Evangelical, but over the years she has worked in various areas of nursing and leadership including Director of The Family Place, the Hospital's obstetrics unit.
Miller holds a Bachelor of Science in Nursing degree from Penn State, a Master of Science in Nursing degree from the University of Phoenix, and is currently pursuing a Doctorate of Healthcare Administration degree from the University of Phoenix. She is a Certified Professional in Healthcare Quality.