Medical Newsmakers at Evangelical Community Hospital
June 06, 2019
---
Weaver Named Director of Health Information Services
Jennifer Weaver, RHIT, CCS, has been named Director of Health Information Services.
In this role, Weaver is responsible for coordinating and providing health information services (HIS) for the Hospital. She develops policies and procedures, implements health information systems, and oversees the HIS staff.
An Evangelical employee for 28 years, Weaver holds an Associate Degree from South Hills Business School and holds certifications as a Registered Health information Technician and Certified Coding Specialist as administered by the American Health Information Management Association.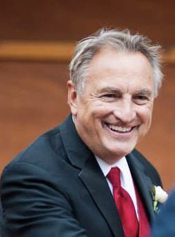 Tenedios Inducted Into Phi Kappa Phi Honor Society
George Tenedios, MD, FAAP, DABMA, Medical Director of Anesthesia Services, was recently inducted into the Honor Society of Phi Kappa Phi.
Dr. Tenedios is currently pursuing his Master of Business Administration (MBA) degree at Bloomsburg University. Phi Kappa Phi is the largest and most respected academic honor society that is open to students in all disciplines. Induction indicates recognition of superior scholarship and is awarded to students with the highest scholastic standing.
Dr. Tenedios has been associated with Evangelical Community Hospital since 1998 and a member of the Evangelical Medical Services Organization since 2015, when Anesthesiology of Evangelical was established. He received his medical education from Tufts University Medical School, completed an internship, residency, and fellowship at Children's Hospital of Philadelphia (pediatrics) and a residency at The Hospital of the University of Pennsylvania (Anesthesiology).
He is certified by the American Board of Anesthesiology, the American Board of Medical Acupuncture, and the American Board of Pediatrics.