10th Annual Fasano Lecture Features Pulitzer Prize-Winning Science Writer, Siddhartha Mukherjee, MD
February 25, 2019
---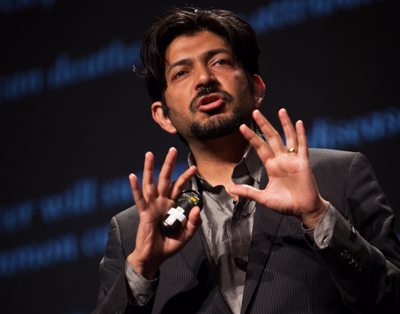 Highly lauded Siddhartha Mukherjee, MD, oncologist and cancer researcher and Pulitzer Prize-winning science writer, will deliver this year's 10th Annual Charles P. Fasano, DO Memorial Lecture.
Dr. Mukherjee is a pioneering physician, oncologist, and author who has redefined our public discourse on human health, medicine, and science. A profoundly influential voice in the scientific community, Dr. Mukherjee is best known for his book, The Emperor of All Maladies: A Biography of Cancer, which earned him the 2011 Pulitzer Prize and was included among Time magazine's 100 best nonfiction books of the past century.
The Fasano Memorial Lecture will be held on Monday, April 1, 2019, at 7 pm in Trout Auditorium of the Vaughan Literature Building on the campus of Bucknell University. On this 10th anniversary of the Fasano Lecture taking the lead in educating on vital health topics, the free and open to the public event invites anyone with an interest in the topic of cancer to attend.
The event is made possible thanks to premier sponsorships by Evangelical Community Hospital, Family Practice Center, PC, VNA Health System, and gifts from the Fasano family, colleagues, and friends.
A second book by Dr. Mukherjee, The Gene: An Intimate History, won international awards and was recognized by The Washington Post and The New York Times as one of the most influential books of 2016.
Dr. Mukherjee's achievements as a writer and educator build upon his career as a renowned medical scholar. His groundbreaking studies into the composition and behavior of cancer cells have pushed the boundaries of modern medicine. Serving as an assistant professor of medicine at Columbia University and as a staff cancer physician at the university's medical center, Dr. Mukherjee generates hope for countless patients and families around the world, while revolutionizing our blueprint for healing.
This lecture is held annually in memory of Charles P. Fasano, DO. Dr. Fasano was a beloved member of the community, having practiced medicine in the Central Susquehanna Valley since 1973. Dr. Fasano worked as a solo family practitioner until 1980, when he partnered with Domenick Ronco, DO. Their practice grew into the Family Practice Center, PC, which currently has 38 practice sites throughout Central Pennsylvania. Dr. Fasano maintained an active medical practice until his death in March 2009 and was committed to providing quality and compassionate care to his patients.
Following the passing of Dr. Fasano, his children, Evangelical Community Hospital physicians, and other friends formed the Fasano Memorial Lecture Fund, honoring his lifelong commitment to education and medicine.