2017 Fasano Lecture - Medical Expert Speaks on "To Do No Harm-Can We Do It?"
April 12, 2017
---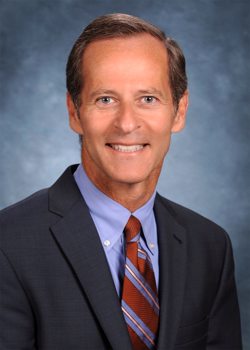 David B. Nash, MD, MBA, will deliver this year's Fasano Memorial lecture entitled, "To Do No Harm—Can We Do It?"
Dr. Nash is a board-certified internist, founding dean of the Jefferson College of Population Health, and the Dr. Raymond C. and Doris N. Grandon Professor of Health Policy at Thomas Jefferson University.
The Eighth Annual Charles P. Fasano DO Memorial Lecture will be held on Thursday, May 11, 2017, at 7 pm in Trout Auditorium of the Vaughan Literature Building on the campus of Bucknell University. The event is free and open to the public, thanks to premier sponsorships by Albright Care Services, Evangelical Community Hospital, Family Practice Center, PC, VNA Health System, and gifts from the Fasano family, colleagues, and friends.
Preventable medical mistakes remain the third leading cause of death in the United States. The medical education establishment, supported by public dollars, has done little to remedy the underlying causes despite major national studies calling for urgent reform. As an internationally recognized leader in public accountability for outcomes, physician leadership development, and quality care improvement, Dr. Nash will sort through the issues and offer new approaches during the lecture.
Dr. Nash has chaired the Technical Advisory Group of the Pennsylvania Health Care Cost Containment Council for 18 years and is widely recognized as a pioneer in the public reporting of outcomes.
Repeatedly named to Modern Healthcare's list of Most Powerful Persons in Healthcare, his national activities cover a wide scope. He serves on the NQF Task Force on Improving Population Health and the John M. Eisenberg Award Committee for The Joint Commission, in addition to a number of governance responsibilities in both the public and private sectors.
This is the eighth lecture to be held in memory of Charles P. Fasano, DO. Dr. Fasano was a beloved member of the community, having practiced medicine in the Central Susquehanna Valley since 1973. Dr. Fasano worked as a solo family practitioner until 1980, when he partnered with Domenick Ronco, DO. Their practice grew into the Family Practice Center, PC, which currently has 37 practice sites throughout Central Pennsylvania. Dr. Fasano maintained an active medical practice until his death in March 2009 and was committed to providing quality and compassionate care to his patients.
Following the passing of Dr. Fasano, his children, Evangelical Community Hospital physicians and other friends formed the Fasano Memorial Lecture Fund, honoring his lifelong commitment to education and medicine.