Evangelical Auxiliary Hosts 30th Annual Lights of Love to Support Hospice of Evangelical
November 10, 2017
---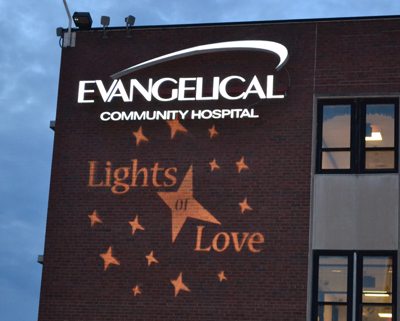 The Auxiliary to Evangelical Community Hospital will be hosting the 30th Annual Lights of Love Ceremony on Sunday, December 3 starting at 5 pm at the Degenstein Pavilion with an illumination just outside of the main entrance of the Hospital.
Lights of Love offers an opportunity to honor and remember family, friends, and loved ones by placing their names on the honoree listing. The Lights of Love spotlight will shine brightly on the Hospital façade throughout the month of December. Honorees and donors will be recognized in The Daily Item in January 2018 and special notifications will be provided to donors to share with honorees or their family members. All proceeds benefit Hospice of Evangelical, a service that provides care and support to terminally ill patients and their families.
The 2017 Lights of Love Honorary Chairperson for this year's event is Connie Hull, wife of Marshall Hull.
Hospice of Evangelical helped care for Marshall from March to November of 2016. Connie was attentive and at Marshall's side every step of the journey. With Connie's guidance, Marshall continued to embrace life. He helped with household chores as he was able. He enjoyed family gatherings and foods that Connie prepared. He and Connie would play cards with volunteers. Connie was determined to ensure Marshall's days were filled with quality moments spent with loved ones.
The staff of Hospice of Evangelical considered it a privilege to be a witness to the love and affection that was present. The Hull family is representative of all the families to whom Hospice of Evangelical provided care. "Events like this help us raise needed funds to have the full array of hospice services available when they are needed," said Kay Holdren, Director of Hospice of Evangelical.
She continued, "Hospice of Evangelical has helped thousands of individuals in our community experience the final part of their journey in a safe and comforting environment, following their wishes, while being surrounded by their loved ones."
Individuals wishing to make monetary donations can do so through December 31, 2017.
To support Hospice of Evangelical through the 30th Annual Lights of Love Event, call the Evangelical Development Office at 570-522-2685.