Evangelical Community Hospital Announces Center for Orthopaedics Raffle Winner
July 03, 2018
---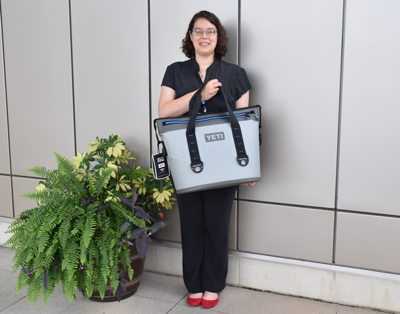 On June 14, 2018, a series of open houses were held for employees and community members to view Evangelical Community Hospital's new Center for Orthopaedics and to hear from staff, serving as tour guides, about how the patient experience will be enhanced by what's inside. During the day's scheduled tours, nearly 450 individuals took advantage of the preview event.
The Center includes a spacious lobby, private check-in and check-out areas, 28 exam rooms (more than double of the previous location), two state-of-the-art X-ray rooms, in-room technology to view X-ray results with patients, and a new nurse call system that allows providers to see where patients are in the appointment process.
Included was the opportunity to register to win a YETI Hopper Two 20 cooler that was given away as part of the introduction of the new Center.
Kristine Mattern, HRIS Data Specialist, at Evangelical Community Hospital, was randomly chosen as the winner.
For more information on orthopaedic services available at Evangelical, visit www.evanhospital.com.