Evangelical Community Hospital Breaks Ground on Largest Construction Project in its History
August 31, 2018
---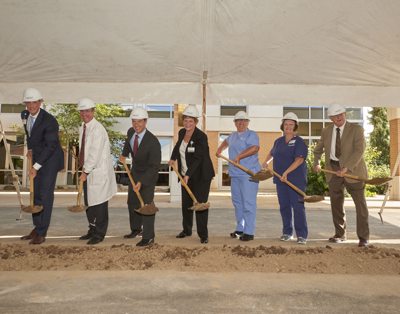 On Thursday, August 30, 2018, Evangelical Community Hospital officially began the largest construction project in its history with a groundbreaking ceremony for employees, executive leaders, dignitaries, and supporters of the Hospital.
The PRIME (Patient Room Improvement, Modernization, and Enhancement) project will enable the Hospital to serve the community by delivering quality healthcare in a modern facility that supports an enhanced healthcare experience.
Kendra Aucker, President and CEO, said, "PRIME represents a significant step toward ensuring we are the Hospital this community deserves. With rooms designed to feel more like home and promote an atmosphere of healing, this project is what our patients and our staff need to have the best possible healthcare experience."
PRIME will consist of a nearly 112,000-square-foot, 4-story new addition and 20,000 square feet of renovated existing space. The project will allow Evangelical to provide private rooms and bathrooms to patients. It will cost around $72 million and is expected to take close to three years to complete. While the expansion will not change the total bed count, it will positively impact the way care is delivered and enhance the patient experience.
"As a physician with more than 30 years of history in this Hospital, I can tell you we already have an amazing, dedicated team of professionals who provide the highest quality of care and support for our patients. And, we have access to leading-edge technology not found at other community hospitals," said John Devine, DO, FACP, Vice President of Medical Affairs. "But, we simply do not have the inpatient setting to go with that care and technology. PRIME is going to change that."
Dr. Devine added that the new facility, once complete, carries with it benefits for everyone in the management and ability to regain health. The new spaces will enhance infection control, afford patients a better opportunity to sleep, and allow patients and their providers to communicate privately.
"Everyone in this organization understands that Evangelical succeeds because of the tremendous support we receive from the people and communities we serve," said John Meckley, Chair of the Board of Directors. "Working together, we will ensure that Evangelical will continue to deliver exceptional healthcare, accessible to all, in the safest and most compassionate atmosphere possible."
The groundbreaking ceremony was an opportunity for employees and friends of the Hospital to celebrate being part of what will be the future of Evangelical.
For more information on the PRIME project and updates on its progress, please visit www.evanhospital.com.
PHOTO: Evangelical Community Hospital breaks ground on the largest construction in its history. Taking part in the ceremonial turning of dirt was, left to right, William Anderson, Chief Operating Officer; James Patterson, MD, President of the Medical Staff; John Meckley, Chair of the Board of Directors; Kendra Aucker, President and CEO; Patricia Snook, Central Telemetry Monitor Technician, 44 year employee of Evangelical; Alice Murray, RN on the Medical Unit, 40 year employee of Evangelical; and Dr. John Arbogast, son of one of our founding physicians.