Evangelical Community Hospital Celebrates Nursing & Health Career Scholarship Awardees
August 08, 2017
---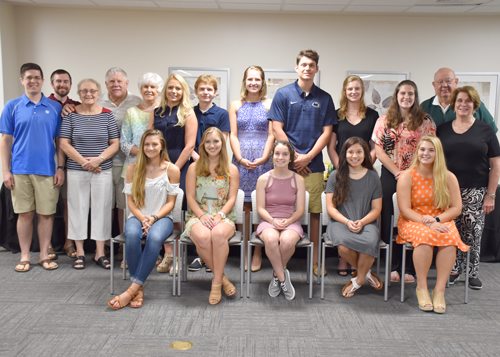 A catered lunch reception was recently held at Evangelical Community Hospital for students who were awarded nursing and health career scholarships through the Hospital's scholarship program.
Students awarded the scholarships for 2017 were: Brooke Aucker, Beavertown; Jenna Aumiller, Beavertown; Natalie Beiler, Mifflinburg; Benjamin Babakov, New Columbia; Courtney Betsock, Winfield; Quinn Black, Lewisburg; Olivia Boop, Millmont; Bryce Fiamoncini, Mount Carmel; Hailey Gombert, Sunbury; Chase Hummel, Lewisburg; Lillie Keefer, Selinsgrove; Jenna Lutz, Allenwood; Sierra Martin, Mifflinburg; Hannah Sauers, New Berlin; Katelyn Sheesley, Mifflinburg; Hannah Showalter, Millmont; Reilley Spriggle, Mount Pleasant Mills; Drew Trate, Milton; Deborah Thomas, Beavertown; and Margaret Wiand, Mifflinburg.
After a brief welcome, the recipients and their guests were treated to catered lunch. Jillian Bickhart, RN, BSN, Emergency Department Coordinator and Sean Ciborowski, PT, DPT, Physical Therapist were the keynote speakers for the event.
Bickhart, a former Mae Keefer Scholarship winner, reflected on her nearly 14 years of employment at Evangelical and the many reasons people go into healthcare as a profession.
"I was fortunate enough to intern at Evangelical between my junior and senior year of college," Bickhart said. "It was during that internship where I spent some time in the Emergency Department and discovered my passion for ER nursing."
Bickhart continued, "I love the excitement of the Emergency Department and never knowing what is going to walk through the door. From birth to death, trauma to acute care, and minor to chronic illnesses, as an RN in the ER you always make a difference."
She ended her portion of the programming by encouraging the recipients to take advantage of internship opportunities and that someday, she hopes to see them eventually become part of the Evangelical family of employees.
Ciborowski shared his own advice with pursuing a health-related career.
"Be energetic and enthusiastic in whatever you pursue," he said. "What you do in a normal day, may be delivered to someone who is having one of the worst days of their life. Your efforts and encouragement will go a long way in impacting them."
Ciborowski also spoke directly about the profession of physical therapy and the direction it is moving, touching upon the opportunities that are available and the specialties that can be filled to have a rewarding career.
Donna Schuck, Associate Vice President/Chief Development Officer, closed the luncheon with a brief explanation and background of the individuals who are the namesakes of the scholarships and appreciation for the donors who help make the scholarships possible.
Schuck said, "Congratulations to each and every one of you on being named a recipient of these scholarships. The scholarship selection committee members are in awe of the overall dedication you have already shown to your community. You are very deserving of the legacy of the scholarship namesakes and donors."
The Mae Keefer Nursing Scholarship Endowment Fund was established in 1988 by the Hospital's Board of Directors. It was named to recognize the longstanding dedication and contribution to the profession of nursing by Mae F. Keefer, RN, retired Director of Nursing at Evangelical. The Fund provides support for nursing students from Northumberland, Snyder and Union counties.
The Crystal D. Snyder Nursing Scholarship fund was established by family, friends and The Degenstein Foundation in 2008 to honor the memory of Crystal D. Snyder. The Fund provides annual scholarship support for local nursing students living in Northumberland, Snyder and Union counties.
The John Family Health Careers Scholarship at Evangelical Community Hospital provides annual financial aid awards to traditional or non-traditional students entering college for the purpose of pursuing a career as a respiratory therapist, medical technologist, clinical laboratory scientist, cytotechnologist, or physical therapist.
For more information about scholarships at Evangelical for nursing and health careers or to make a donation for future scholarship awards, visit www.evanhospital.com.

PHOTO from left to right:
Front row – Natalie Beiler, Mifflinburg; Hannah Sauers, New Berlin; Hannah Showalter, Millmont; Lillie Keefer, Selinsgrove; and Reilley Spriggle, Mt. Pleasant Mills.
Back row –Jesse and Josiah Ramsey, Beverly and Nathan Carter, donor champions of the Crystal D. Snyder Scholarship; Mildred John, donor champion of the John Family Scholarship; Katelynn Sheesley, Selinsgrove; Chase Hummel, Lewisburg; Margaret Wiand, Mifflinburg; Drew Trate, Milton; Courtney Betsock, Winfield; Jenna Lutz, Allenwood; and Robert and DeOnne Gronlund, donor champions of the Mae Keefer Scholarship.