Evangelical Community Hospital Introduces Newly Revamped Website
July 06, 2017
---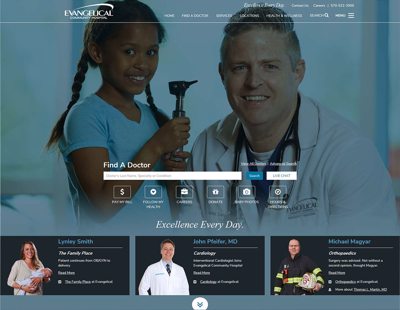 Evangelical Community Hospital has unveiled a revamped website for the Hospital and its practices, services, and programs at www.evanhospital.com.
The Hospital's Marketing and Communications Department partnered with MoJo Active of Watsontown, to design a new site with the consumer in mind, concentrating on who was using it and how it was used. The project, which took a full year to complete, was done to bring a modern touch to the appearance of the site, while accurately representing the transitions the Hospital has done over the last several years to meet patient needs and expectation.
User-friendly changes were made by looking at analytics and seeing what pages were being visited the most often and the types of information being sought. From the low-tech user to the super-user, all levels of digital fluency and investigative interest were taken into account. The result is a website that is cleaner and simpler in language and form.
Healthcare consumers will see a new home page with:
Easy to find action items
Expanded Find a Doctor functionality
Focus on patient experiences
Emphasis on upcoming events
Enhanced navigation choices
Quick reference top news stories for the latest happenings
Consumers are invited to navigate the new site to explore the offerings available to members of the community. Included items range from more detailed information about specific services, to registering for upcoming classes, to finding a physician who meets individual medical needs based on specific medical needs, location, insurance coverage, and more.
The site has been optimized to be available on a variety of devices and platforms including smartphones, tablets/iPads, and computers.
To see the new site, visit www.evanhospital.com.
Evangelical is a non-profit organization that employs over 1,700 individuals and has more than 170 employed and non-employed physicians on staff. The Hospital is licensed to accommodate 132 overnight patients, 12 acute rehab patients, and 18 bassinets. The Hospital serves residents throughout the Central Susquehanna Valley, including those living in Snyder, Union, Northumberland, and Lycoming counties.