Fasano Lecture — Medical Expert Speaks on "Is Medical Marijuana Really Medical?"
April 11, 2018
---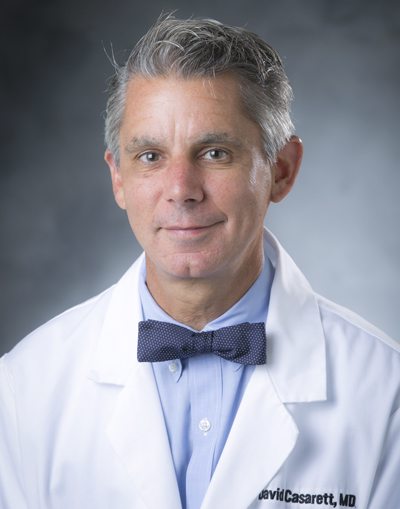 David Casarett, MD, MA, will deliver this year's Fasano Memorial Lecture entitled, "Is Medical Marijuana Really Medical?"
Dr. Casarett is a palliative care physician and health services researcher whose work focuses on improving systems of care for people with serious, life-threatening illnesses. He is a Professor of Medicine at Duke University and the Chief of Palliative Care at Duke Health, North Carolina.
The ninth annual Charles P. Fasano, DO Memorial Lecture will be held on Thursday, May 10, 2018, at 7 pm in Trout Auditorium of the Vaughan Literature Building on the campus of Bucknell University. The event is free and open to the public, thanks to premier sponsorships by Evangelical Community Hospital, Family Practice Center, PC, VNA Health System, and gifts from the Fasano family, colleagues, and friends.
Tired of hearing hype and half-truths around medical marijuana, Dr. Casarett put on his skeptic's hat and investigated on his own. During the lecture, Dr. Casarett will share a fascinating report and hard look at what we know and what we don't, and what mainstream medicine could learn from the modern medical marijuana dispensary. He will address if medical marijuana is as helpful as some claim or if it is as dangerous as others fear.
The author of more than 100 articles in journals including JAMA and The New England Journal of Medicine, Dr. Casarett's writing has appeared in print and online in Salon, Esquire, Discover, Newsweek, The New York Times, and Wired. He is also the author of three non-fiction books, the most recent of which was Stoned: A Doctor's Case for Medical Marijuana, published in 2015 by Penguin Random House.
Dr. Casarett is a recipient of the Presidential Early Career Award for Scientists and Engineers, the highest honor given by the U.S. government to researchers in the early stages of their careers.
This is the ninth lecture to be held in memory of Charles P. Fasano, DO. Dr. Fasano was a beloved member of the community, having practiced medicine in the Central Susquehanna Valley since 1973. Dr. Fasano worked as a solo family practitioner until 1980, when he partnered with Domenick Ronco, DO. Their practice grew into the Family Practice Center, PC, which currently has 37 practice sites throughout Central Pennsylvania. Dr. Fasano maintained an active medical practice until his death in March 2009 and was committed to providing quality and compassionate care to his patients.
Following the passing of Dr. Fasano, his children, Evangelical Community Hospital physicians and other friends formed the Fasano Memorial Lecture Fund, honoring his lifelong commitment to education and medicine.