Four Is the Magic Number for Leap Day Babies at Evangelical Community Hospital
March 03, 2020
---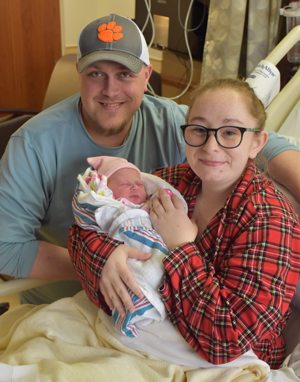 Jason Harpster and Casie Brooks with their daughter Chloe Ann.
As the minutes ticked by on February 29, 2020, Evangelical Community Hospital's The Family Place welcomed not one, not two, but in total four Leap Day babies. These four newborns will experience a real birthday every four years because of their very special arrival day.
The first baby to be born on this extra day of 2020, was Chloe Ann Harpster, who arrived at 2:55 am, weighing 6 pounds, 8 ½ ounces, and measuring 18 ½ inches. Her proud parents are Casie Brooks and Jason Harpster of Watsontown. She joins big sister, Madison, age 1, at home. Originally due February 27, 2020, Chloe decided to arrive a few days late, and was delivered by Amy Danilowicz, Certified Nurse Midwife, OB/GYN of Evangelical.
The next three babies came later in the evening of February 29, 2020, and were all delivered by Kay Zlockie, Certified Nurse Midwife, OB/GYN of Evangelical. Kay relayed that in her 36 years as a practicing midwife, she had delivered five Leap Day babies, on this day in 2020, she delivered three in one day!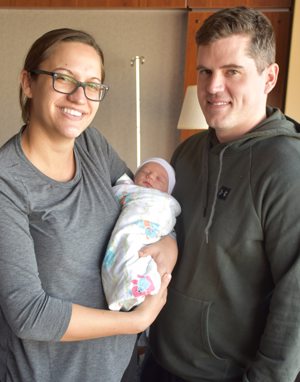 Julie and Kevin McNamara with son, Justin Ryan.
Arriving at 6:25 pm, after 40 hours of labor, was Justin Ryan, to parents Kevin and Julie McNamara of Lewisburg. Justin weighed in at 7 pounds, 4 ounces, and measured 22 inches in length. The first child for the couple, Justin is the first grandbaby on Kevin's side and the first boy grandson on Julie's side. The couple's due date was March 1, 2020, and they are absolutely thrilled to have him born on Leap Day.
Julie said, "We were hoping from the beginning he would be born on the 29th. We love the idea of him being a very special baby and are going home to frog stuff everywhere!"
Of special note, the McNamara's are very familiar with Evangelical as Kevin is an Emergency Department physician at the Hospital.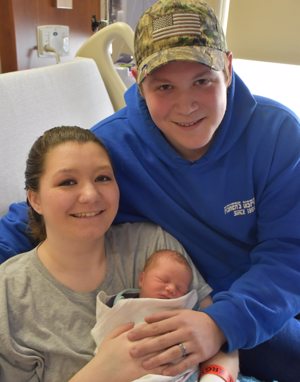 Kira Bordner and Gavin Doane with son, Greyson Hunter.
At 10:47 pm Greyson Hunter Doane made his presence known by meeting his parents, Kira Borner and Gavin Doane of New Columbia. The first child for the couple, Greyson was due March 28, 2020, but instead surprised his parents by arriving a month early weighing 6 pounds, 5 ounces, and measuring 18 ½ inches long.
Because Greyson's arrival was a bit unexpected, the couple haven't had much time to think about how they might celebrate his birthday in the future, but are glad he's here, healthy and was born very close to his dad's birthday.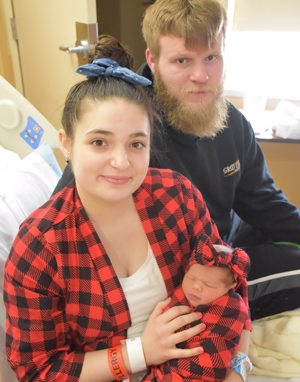 Rachel Engelke and Cristen Howerter with daughter, Meadow Grace.
Last but not least, at 11:02 pm, Rachel Engelke and Cristen Howerter welcomed their third child, Meadow Grace Howerter as the final Leap Day baby at Evangelical. Born on her due date, Meadow weighed 7 pounds, 2 ounces, and measured 19 inches in length. She joins big brother Hunter, age 4, and big sister, Willow, age 2, at home in Kulpmont.
Since the couple's due date was set as Leap Day, the couple had a long time to think about the possibility of it coming true. They are excited about the unique designation and plan to have a birthday every year but to make a huge deal every four years on Meadow's real birthday.
Congratulations to all of the couples and their families on their very special babies. The Family Place staff and providers are excited to be part of your story.