Health and Wellness Coaching Provides Certified Trainers for Life's Challenges
December 27, 2017
---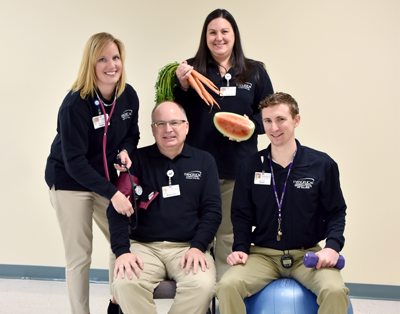 Sports teams have coaches who train, inspire, and collaborate to meet the team's goals of winning. At Evangelical Community Hospital, coaches help people achieve their personalized health and wellness goals; guiding them through their well-being play calls in the game of life.
Health and wellness coaching is the use of certified professionals trained in healthy lifestyle management. Coaching encompasses all areas of living including weight loss, physical activity, nutrition, and stress management.
Through the Evangelical Health and Wellness Coaching program, certified coaches work to help people determine areas where change is desired. The coaching relationship is individualized to the person being coached, as there is no one set plan that works for everyone. Instead, the coach fine-tunes each individual plan to reach wellness goals in a comfortable, nonthreatening environment designed to bring control and balance to daily living.
Evangelical's program enlists five certified wellness professionals – who all have education and experience covering a comprehensive realm of wellness initiatives including fitness, smoking cessation, disease prevention, weight management, stress management, and healthy eating.
"Our job as a coach is to assist each client in identifying areas of their health that needs improvement. We create a plan and become their 'check-in' support person," said Ryan McNally, one of Evangelical's Professional Certified Coaches. "Individuals choosing to be coached receive suggestions and encouragement to meet their goals. We build a relationship of trust that keeps them engaged in the plan and accountable for their success."
Evangelical's Health and Wellness Coaching program is available for individuals in the community and also for businesses looking to create an onsite workplace wellness component.
All coaching is confidential, non-judgmental, and guides people through a process of self-inquiry, learning, and growth in a safe and supportive environment.
For more information on the Health and Wellness Coaching Program of Evangelical Community Hospital, contact the Community Health and Wellness department at 570-768-3200.
PHOTO: Evangelical Community Hospital's Wellness Coaching team includes from left to right, Amy Minnier, James Persing, Deana Carson, and Ryan McNally. Wellness Coaching at Evangelical is provided by certified wellness coaches who assist with goal-setting while providing the support needed to meet those goals. The program is available through Evangelical's Community Health and Wellness department to any individual seeking assistance in achieving lifestyle changes for healthier living.