Hospice of Evangelical Welcomes New Volunteers
September 13, 2017
---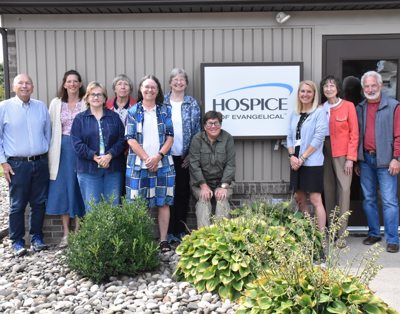 Hospice of Evangelical recently held a volunteer training on September 11 and 12, 2017, for those interested in giving their time and assisting with end-of-life care for families throughout the Susquehanna Valley or supporting the work of Hospice through non-patient activities.
Topics covered during training included Evangelical's hospice philosophy, communication skills, care and comfort measures, understanding bereavement, and volunteer opportunities.
The comprehensive Hospice of Evangelical program and its staff have nearly three decades of experience in service to patients with life-limiting illnesses and their families, providing support in the home or nursing facilities, giving breaks to a caregiver, and more. The mission of Hospice of Evangelical is made possible through the valuable time given by volunteers who support patients and their families by providing care, visiting, listening, running errands, assisting with meals, and more. Evangelical's philosophy of hospice care emphasizes symptom management and adding quality of life to each day.
At the end of the two-day session, Hospice welcomed 12 new volunteers to the fold of individuals who have chosen to give their time to help during life's most difficult moments.
For more information about Hospice of Evangelical, volunteer opportunities, and available services call 570-522-2550 or visit www.evanhospital.com.
PHOTO CAPTION:
2017 Class of Hospice of Evangelical Volunteers. Pictured left to right – Robert Martin, Lewisburg; Karen Gallagher, Lewisburg; Patricia Harvey, Middleburg; Bonnie Ingram, Muncy; Laurisa Morris, Sunbury; Sherry Cusick, New Berlin; Debra Bachman, Montoursville; Kara Persun, Hospice of Evangelical Volunteer Liaison; Cathy Dennis, Lewisburg; and James Gessner, Leck Kill.
New volunteers not pictured: Adelyn Elliott, Lewisburg; Paula Foriska, Milton; and Kathleen Shafer, Mifflinburg.