Hospice of Evangelical Welcomes New Volunteers in 2018
September 14, 2018
---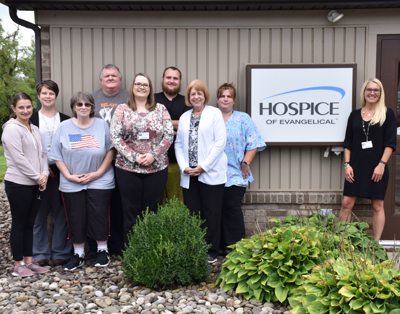 Hospice of Evangelical recently held a volunteer training on September 11 and 12, 2018, for those interested in giving their time and assisting with end-of-life care for families throughout the Susquehanna Valley or supporting the work of Hospice through non-patient activities.
Topics covered during training included Evangelical's hospice philosophy, communication skills, care and comfort measures, understanding bereavement, and the variety of Hospice volunteer opportunities available – both in patient care and in administrative support of the program. Recently hired Hospice staff, Catherine Doyle, RN, Kayla Kovilaritch, RN, and Laura Moser, CNA, Aide, also attended the training to familiarize themselves with the Hospice of Evangelical philosophy and mission as well as create a connection with the new volunteers.
The comprehensive Hospice of Evangelical program and its staff have nearly three decades of experience in service to patients with life-limiting illnesses and their families, providing support in the home or nursing facilities, giving breaks to a caregiver, and more. The mission of Hospice of Evangelical is made possible through the valuable time given by volunteers who support patients and their families by providing care, visiting, listening, running errands, assisting with meals, and more. Evangelical's philosophy of hospice care emphasizes symptom management and adding quality of life to each day.
At the end of the two-day session, Hospice welcomed five new volunteers to the fold of individuals who have chosen to give their time to help during life's most difficult moments.
For more information about Hospice of Evangelical, volunteer opportunities, and available services call 570-522-2550 or visit www.evanhospital.com.
PHOTO: Evangelical's 2018 Class of Hospice Volunteers.
Pictured left to right – Front Row: Laura Moser, Hospice Aide; Evelyn Moore, Milton; Kayla Kovilaritch, Hospice RN; and Susan Lloyd, Watsontown
Back Row: Catharine Doyle, Hospice RN; Bill Moore, Milton; Jake Kitchens, Watsontown; Jan Dean, Lewisburg
Kara Persun, Hospice Volunteer Liaison, at right, led the volunteer training sessions.