Laboratory Advances Make Way for More Precise Diagnosis and Shorter Test Wait Times
October 31, 2017
---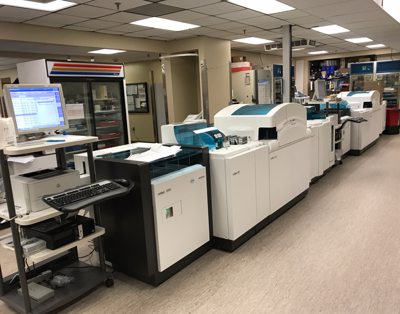 Patients might not see what happens at the Laboratory of Evangelical Community Hospital, but the workings of the lab can determine so much for the patient. From length of wait to diagnosis, the lab plays a vital role.
At Evangelical, several new lab happenings are working to enhance the patient experience.
The introduction of Roche equipment, a chemistry analyzer, has decreased the amount of time a physician has to wait for results as 85% of tests go through the new equipment. The high-capacity model has increased the speed at which samples can be processed and allows for quicker decisions regarding discharge or admission to the Hospital. The longest test on the new system takes only 21 minutes.
In addition, the Roche analyzer has a high sensitivity for Troponin T, a cardiac marker that helps to identify if a patient is having a heart-related event.
A troponin test measures the levels of troponin proteins in the blood. These proteins are released when the heart muscle has been damaged, such as occurs with a heart attack. The more damage there is to the heart, the greater the amount of troponin there will be in the blood. Evangelical is one of the first to go-live in the nation with this in-house test that allows faster response time for possible heart attack victims.
"We're excited to be able to offer the same advances as larger facilities," said Rene Hartman, BSCLS, MT (ASCP), Administrative Director, Laboratory Services.
The Hospital has also expanded its respiratory virus panel testing using new BioFire equipment in-house. Having an in-house system allows for quicker results, up to one hour that help clinicians determine if a patient has tested positive for over 20 viruses including influenza A, influenza B, and RSV to name a few.
An improved blood culture identification has also recently been introduced, which allows technicians to identify individual infections more precisely. Knowing what exact infection is impacting the body, allows physicians to introduce a drug therapy that is more targeted.
All of the recent advances in the lab at Evangelical were chosen with the patient in mind.
"Through the investment of equipment and training for our already skilled staff, we are able to look deeper into the conditions impacting our patients, which allows their physicians to offer more specialized treatment plans to make the patient feel better and to reduce risk of the spread of infection," said Hartman.
"We want to know as soon as we can which pathogen is making a young child sick or what therapy will help a septic patient heal," Hartman continued. "Our modern equipment makes that possible."
PHOTO: The Roche analyzer arrived at Evangelical's laboratory mid-year and was installed and implemented starting at the end of September. The equipment allows for high-volume sample testing and clinical insight when minutes matter through its accelerated testing efficiency.