Leap Day Baby at Evangelical Community Hospital
March 02, 2020
---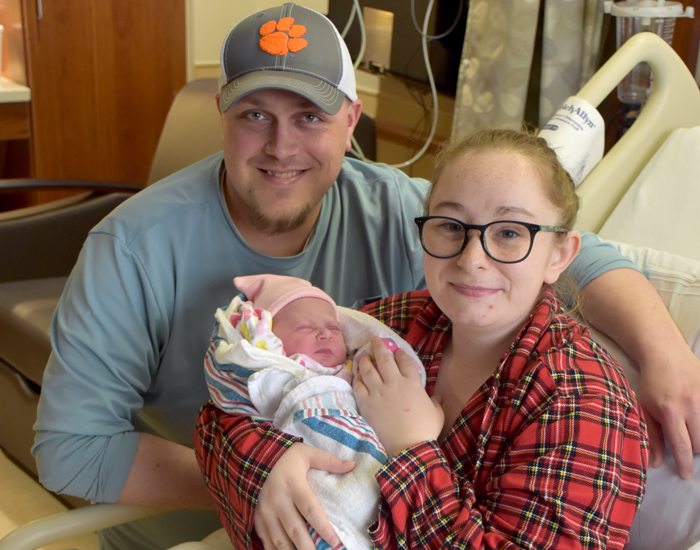 For Casie Brooks and Jason Harpster of Watsontown, their extra day in 2020, was spent welcoming the newest addition to their family at Evangelical Community Hospital's The Family Place.
Chloe Ann Harpster was born on Saturday, February 29, 2020, weighing 6 pounds, 8 ½ ounces, and measuring 18 ½ inches long. Being born after midnight secured her the unique designation of being a leap year baby with her official birthday only coming every four years.
Chloe's original due date was set as February 27, 2020, so Casie and Jason knew the possibility of having a leap day baby existed.
"We talked about the possibility and I knew Jason wasn't thrilled about the idea of having a baby born on leap day, so when it happened, I just thought it was funny," said Casie.
As for Jason, now that Chloe is born, he said, "I'm just happy she's healthy."
Because she was overdue, Casie was scheduled to be induced on February 29, but Chloe had other plans. She went into labor at 12:30 am, arrived at the Hospital around 1 am, and Chloe came naturally at 2:55 am.
The couple, still tired from a busy night, have yet to decide when they will celebrate Chloe's birthday each year. A relative joked that she should celebrate on both February 28 and March 1 to make the celebration longer on the off years.
Chloe is the second child for the couple. She joins older sister, Morgan, 1, at home.
Congratulations Casie, Jason, and Morgan, on the new addition of Chloe to your happy family!