PUBLIC ADVISORY: Evangelical Conducting Emergency Response Training Exercise
August 18, 2017
---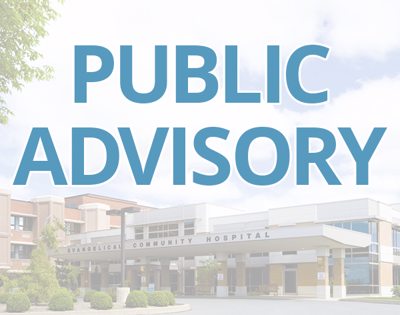 On Tuesday, August 22, 2017, starting at 8 am and running throughout the day, Evangelical Community Hospital, in conjunction with other federal, state, and local agencies, will be holding a hazardous materials and mass casualty exercise.
The exercise will not affect normal hospital operations and patients will not experience delays during the event.
The four to six-hour exercise will take place at various locations on the Evangelical Community Hospital campus as well as the grassy area of the walking track located adjacent to the Hospital campus on Loan Road, Lewisburg.
Community members should not be alarmed by the extra activity, but should use caution in those areas as traffic patterns may change.