Speaker Shares Expertise on Conquering Negativity in the Workplace with Evangelical Employees
April 20, 2018
---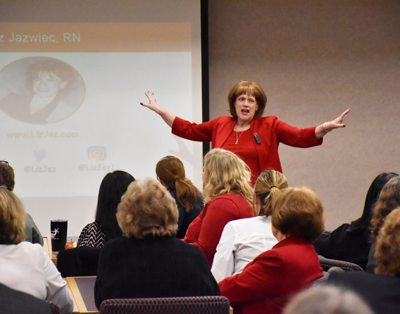 Liz Jazwieck, RN, visited Evangelical Community Hospital on Wednesday, April 18, 2018, to address negativity in the workplace. Through humor, Ms. Jaswiec shared tools to make small changes in workplace attitude that have a huge impact on creating an environment where work is enjoyable.
Evangelical employees from all departments of the Hospital were invited to a lunch session at the Hospital or an evening session at the Campus Theatre in downtown Lewisburg to hear her insight on creating a positive environment, one that encourages great care for patients.
The events were hosted by EvanCARES, a program of Evangelical designed to supply employees with the resources needed to take care of themselves so they can take care of others.
Ms. Jazwieck is a nationally renowned speaker, strategist, and author who has shared her passion for leadership, engagement, and service with audiences across the country. She was a longtime hospital officer who helped raise service scores at Chicago, Illinois' Holly Cross Hospital from the 5th to the 99th percentile in just a few years. Her work as vice president of patient care and as the director of emergency services was one of the key reasons Holy Cross won Fortune Magazine's Enterprise Award for Best Business Practices in 1996.
Today, she uses that expertise to inspire other organizations interested in building a culture where excellence is driven by strong leaders and engaged employees.