Talk with the Doc: Evangelical's Experts Discuss Women's Health
April 10, 2019
---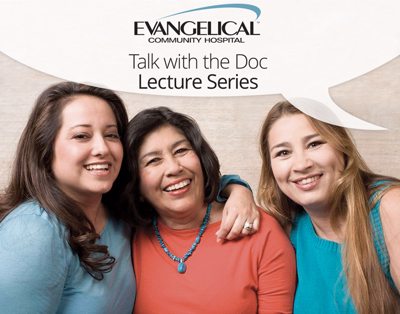 In the United States, women generally live long and healthy lives when compared to other less developed countries, but they still face many health issues involving cancer, disease, mental health, and fertility. According to the Centers for Disease Control the top leading causes of death in women continue to be heart disease, cancer, and stroke.
The good news is that educating on key health factors for women can help any woman make changes now that can lead to healthier living in the future. To aid in that effort, Evangelical Community Hospital is holding a Talk with the Doc panel discussion focusing strictly on women's health.
This FREE discussion is being held Thursday, May 23, 2019, in the Apple Conference Rooms located at the rear of the O'Keefe Dining Room, and is open to any woman, any age, who wants to learn more about conditions and issues that can impact their health and the resources available to address those issues.
The discussion will include topics such as cardiac health in women and natural approaches to heart disease presented by Petra Lynch, MD, Interventional Cardiologist, and gynecological health presented by Russell Stankiewicz, MD, FACOG, CCD, NCMP, Gynecologist and menopause expert. In addition, Kerin Cook, MPT, OCS, Physical Therapist, will be on-hand to speak about pelvic floor health and the role physical therapy can provide in addressing issues of incontinence, pelvic organ prolapses, painful intercourse, and pelvic pain. Christine Malloy, MSPT, Physical Therapist, will go over what osteoporosis is, how and at what age it impacts a woman's health, when to be screened, and what to do to prevent the condition from advancing.
A complimentary meal will be offered at 5:30 pm with the talk starting at 6:30 pm. Immediately following the panel discussion there will be a question/answer period.
The panel discussion is an opportunity to learn and discuss in a safe environment with experts who have answers to some of the most complex issues for women today. Education is the key to taking control of health and this open-to-the-public provides an opportunity to hear from medical professionals who have years of experience providing care to the women of the area.
Registration is required and can be completed by calling 570-768-3200 or by visiting www.evanhospital.com.