Volunteers Recognized at Evangelical Community Hospital
April 23, 2018
---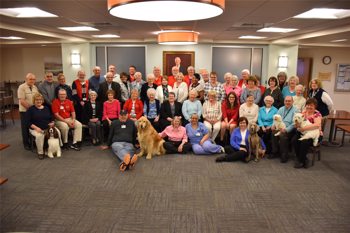 A number of Evangelical's volunteers pose for a photo at the volunteer recognition event held in their honor. Evangelical's ranks include 240 volunteers.
For National Volunteer Week, celebrated from April 15-21, 2018, Evangelical recognized how volunteers make a difference to the patient experience every day through the giving of their time and talent. Volunteers reaching milestones in their contribution of time were presented special pins.
On Thursday, April 19, 2018, a special reception was held to thank all volunteers for their contributions to the Hospital.
Evangelical Community Hospital currently receives support from 240 active volunteers working in over 25 Hospital areas, with their ages ranging from 14 to 90.
Evangelical volunteers help patients and visitors find their way, provide comfort through visits and spiritual care, deliver newspapers, knit baby blankets, assist staff in many ways, and allow the opportunity for pet visits throughout the Hospital, and so much more. In 2017 alone, Evangelical volunteers gave over 37,000 hours of service. No matter what type of work Evangelical volunteers' offer, each adds a special touch in the patient/guest experience that enhances quality of care.
The Evangelical volunteer team continues to grow its ranks and invites anyone, teenager or adult, looking for an opportunity to give their time to call 570-522-2144.