Evangelical Community Hospital has received five out of five stars for overall quality from the Centers for Medicare and Medicaid Services (CMS) in the most recent release of its Overall Hospital Quality Star Ratings. The scores released in July 2023 reflect data from 2018-2022.
Less than 11% of all healthcare providers in the country earned five stars, according to CMS.

Only 18 facilities in Pennsylvania can claim this distinction.

And there's only one in the Central Susquehanna Valley region—Evangelical Community Hospital.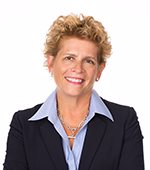 "It is an honor to be recognized by CMS for what our staff devote themselves to every single day. The recognition is all about commitment to care and what our patients need. The individuals who make up this Hospital clearly dedicate themselves to the medical needs of our patients but exceed that by also making sure they feel like family when they are here."


— Kendra Aucker, President and CEO
CMS uses the overall hospital rating system to publicly report how well more than 4,500 U.S. hospitals perform in seven key quality measures:
Mortality
Safety of care
Readmission
Patient experience
Effectiveness and timeliness of care

The overall hospital rating ranges from 1 to 5 stars and hospitals with more stars performed better in these measures. For more information, visit https://www.medicare.gov.
5 Stars — 483
4 Stars — 803
3 Stars — 872
2 Stars — 668
1 Star — 250
No Information Available — 1,578
Work at the Region's Only 5-Star Hospital - Explore Opportunities Work at the Region's Only 5-Star Hospital - Explore Opportunities
The CMS five-star rating is out of five stars. The data used to determine Evangelical Community Hospital's 5-star ranking for Overall Hospital Quality is from July 1, 2018–March 31, 2022.
For more information on the star rankings, visit https://www.medicare.gov.