Shining a Light on Our Mission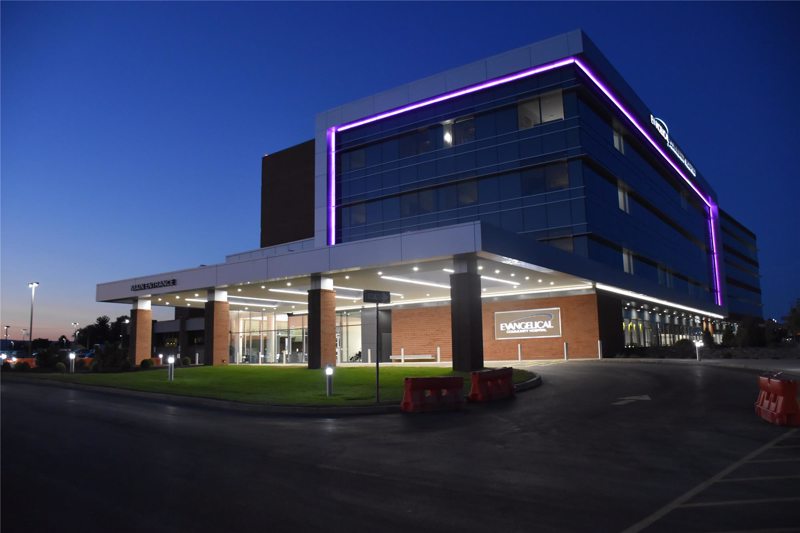 At Evangelical Community Hospital, we are committed to a sense of belonging for patients and talent alike. Our Hospital building lights are one of many communication vehicles we utilize to honor the rich culture of the communities we serve and employ.
The Hospital is a proud champion of its commitment to our mission of providing exceptional healthcare, accessible to all, in the safest and most compassionate atmosphere possible to build a healthy community.
At night, when our building lights are not shining blue to reflect our brand, the following calendar of events showcases opportunities to reflect our values as our community's healthcare provider of choice for patients and as a welcoming and open workplace for our clinicians, staff, and volunteers.
The upcoming calendar of recognition is as follows:
JANUARY

FEBRUARY
Rock Red for Healthy Hearts - Red
Black History Month - Red, Green
MARCH
Women's History Month - Purple
APRIL
Donate Life - Blue, Green
Earth Day - Green
MAY
Hospital Week - Evangelical Blue
Mothers' Day - Yellow
Asian Pacific Heritage Month - Red, Yellow, Green
Memorial Day - Red, White, Blue
JUNE
LBGTQ+ Pride Month - Rainbow
Fathers' Day - Yellow
JULY
Independence Day - Red, White, Blue

SEPTEMBER
Hispanic Heritage Month - Yellow, Orange, Red
OCTOBER
Paint the Valley Pink - Pink
Domestic Violence Awareness Month - Purple
Disability Employment Awareness Month - Yellow, White, Blue, Green
Halloween - Orange
NOVEMBER
Veterans' Day - Red, White, Blue
Native American Heritage Month - Blue, Green. Red
Thanksgiving Day - Red, Orange, Yellow
DECEMBER
Holiday Season - Red, Green, White, Blue
_______________________________________________________________________
Evangelical Community Hospital welcomes requests to use the building lights to celebrate and recognize special events, causes, and observations. To begin, click the button below and complete the building lights request form.