Michael Magyar
Michael Magyar will never forget it: all those flames, all that smoke. A volunteer firefighter, he bravely charged into the burning house, searching for victims. Then he became one himself.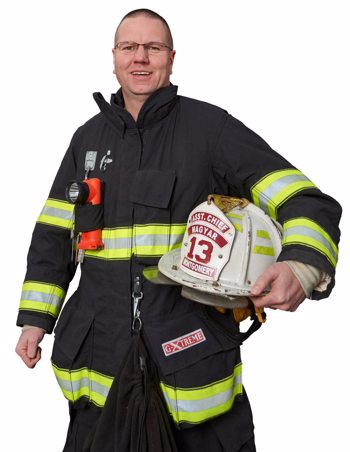 That day in June 2016, the floor suddenly gave way under Magyar's leg and his entire weight slammed into his knee. A minute later, excruciating pain shot through him.
"It was hard to come to grips that something was wrong with me," says Magyar, of Montgomery, who hobbled out for help and an ambulance to the nearest hospital. All's well now, thanks to the exceptional care he received at Evangelical Community Hospital.
It didn't start that way. Magyar's workers' compensation required that he be treated at the hospital he was rushed to, not Evangelical. X-rays showed no damage; he was told only that he had a bad sprain. But after 10 weeks of physical therapy and not being able to see a physician, "My symptoms actually worsened," says Magyar. "I continued to have constant pain and swelling; and it was difficult to get out of bed, take a shower, and bend over.".
He could return to his full-time job as an Assistant Health System Administrator at the Federal Bureau of Prisons, but forget about his outside passions for firefighting or his part-time National Registered Paramedic post at Evangelical— those would be impossible.
By October, he finally insisted on an MRI. It revealed a total meniscus (a type of cartilage) tear and a Baker's cyst (swelling behind the knee joint). Surgery was advised. Not without a second opinion, thought Magyar.
A few days later, he was sitting across from Thomas Martin, MD, orthopaedist at SUN Orthopaedics of Evangelical. MRI results in hand, Dr. Martin told Magyar that to avoid long-term health consequences and maintain hope of regaining full use of his knee, corrective surgery was needed. Fortunately for Magayar, it could be scheduled within five days.
The registration process for surgery was quick, and he was immediately wheeled into pre-op, where Dr. Martin and the nurses explained everything to Magyar and his family. "They went out of their way to ensure that all our questions were answered," he says.
Magyar received arthroscopic knee surgery, during which Dr. Martin trimmed the meniscus tear. Following the procedure, Dr. Martin visited Magyar to share the surgery results and recovery plan. In hours, Magyar was moving. "If you're able, they get you mobile right from the start, and I think that's the key to a successful, rapid recovery," he says. He went home that same day, and within a week he was back on his job at the prison and starting physical therapy under Dr. Martin's orders.
"Dr. Martin kept me and my family informed, from start to finish," says Magyar, whose paramedic work would have to wait three months, and he has yet to return to firefighting. "I got prompt, thorough, and inclusive care. The nursing staff gave me such comfort, and they were clear in explaining my discharge from the hospital. For everyone here, your best interests are their priority. The nice thing about Evangelical is its community feel. Whether you're an employee or not, you're part of the family."