Daphyne Ressler, RN, BSN, MSN, Earns Patient Safety Credential
June 02, 2022
---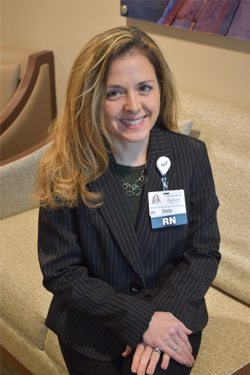 The Certification Board for Professionals in Patient Safety (CBPPS) recently recognized Daphyne Ressler, RN, BSN, MSN, as a Certified Professional in Patient Safety (CPPS). Ressler is the Director of Medical Ambulatory Surgery and Endoscopy at Evangelical Community Hospital
"Earning this credential attests to Daphyne's professional competency in patient safety science and application," said Patricia McGaffigan, RN, MS, CPPS, President, CBPPS. "This achievement demonstrates her expertise in this critical discipline and positions her among those committed to and leading patient safety work."
Ressler earned this credential in part by passing a rigorous, evidence-based examination that tests candidates on their competency in patient safety science and application.
Ressler has served most of her nursing career at Evangelical, where she was hired as an RN in 1997. She's worked on the Medical Unit, One Day Surgery, Home Health Services, Inpatient Rehabilitation, and the Nursing Resource Pool. In 2017, Ressler was promoted to Nursing Surgical Services Manager at the Evangelical Ambulatory Surgical Center (EASC) and was named Director of the EASC and the Evangelical Community Hospital Endoscopy Center in 2019.
Ressler received her diploma in nursing from Geisinger School of Nursing in conjunction with Penn State University and went on to receive her Bachelor of Science in Nursing Degree from Chamberlain University in conjunction with DeVry University. She received her Master of Science Nursing Degree, Nurse Executive Leadership track, from Chamberlain University.
With the conferring of certification from The Certification Board for Professionals in Patient Safety (CBPPS), Ressler is privileged to use the CPPS credential and to use the expertise she gained through training to bring enhanced safety practices to Evangelical.