Evangelical Community Hospital Awards DAISY Honor For Nursing Excellence
September 03, 2020
---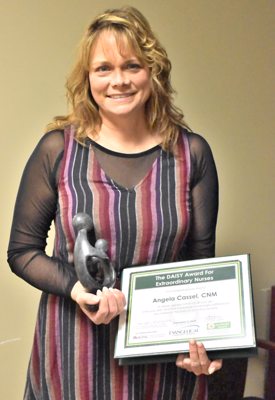 Angela Cassel, CNM, OB/GYN of Evangelical, was presented the DAISY Award on Wednesday, September 2, 2020. The award is presented to a deserving nurse who exemplifies clinical expertise and compassionate care and is recognized as a role model in the nursing community.
Cassel was surrounded by her coworkers, as well as Hospital and nursing leadership, as she was presented with the award. She was nominated for the award by her colleague Louann Benfer, LPN. In the nomination, Benfer stated, "Angela's greatest gifts to our OB/GYN office and The Family Place is her compassion and concern for her patients, her gentle spirit, and her kind heart."
Cassel, who has been a Certified Nurse Midwife for 23 years, has worked at OB/GYN of Evangelical and been assisting in the delivery of babies at Evangelical's The Family Place since 2015. In her time working at Evangelical, she has delivered a countless number of babies and provided the support needed to mothers as they go through the labor and delivery process.
The DAISY Foundation was established in 1999 in California by the family of J. Patrick Barnes, who died at the age of 33 from complications of an auto-immune disease. During his eight-week hospital stay, his family was impressed by the care and compassion his nurses provided, not only to him but to everyone in the family. They created the DAISY Award in his memory to recognize those nurses who make a big difference in the lives of so many people.
Evangelical is proud to be a DAISY Award partner, beginning to participate in the program in early 2020. Nurses are nominated by patients, family members of patients, as well as other healthcare professionals. Nominations are presented for consideration through a process of anonymity. The winner is then selected by a board of healthcare workers. Each DAISY Award Honoree is given a DAISY Award pin, a certificate of honor, and a stone sculpture entitled, A Healer's Touch, handcrafted by a tribe in Zimbabwe.
Nominations for the DAISY award can be made by patients, patient family members, colleagues, and providers. If an Evangelical Community Hospital nurse has displayed extraordinary clinical expertise and compassion, visit www.daisynomination.org/ECH and fill out a nomination form.