Evangelical Community Hospital Holds Event to Honor Community Givers
November 16, 2023
---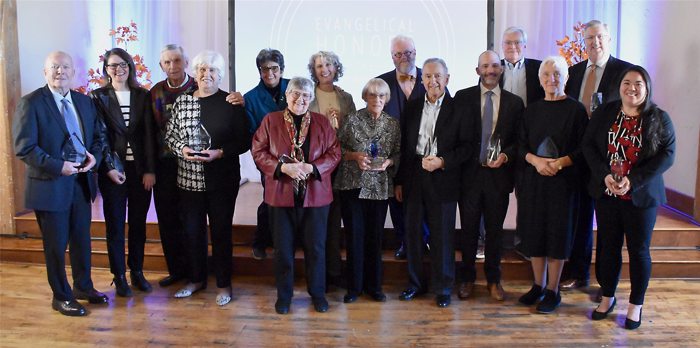 On November 14, 2023, Evangelical Community Hospital held its annual Evangelical Honors the Community banquet at Rusty Rail Brewing Company, Mifflinburg. The event serves as an outward sign of appreciation of the way the community works together with the Hospital to build a welcoming environment where people want to live, work, and raise families.
A strong and vibrant community is built upon multiple pillars—basic services and infrastructure, economic development, business and nonprofit organizations, leadership and elected officials, civic engagement, health, wellness and recreation, arts and culture, and education.
Opening the event, Kendra Aucker, President and CEO of Evangelical Community Hospital stated, "In 2026, Evangelical will celebrate its centennial anniversary. In thinking about this approaching milestone, I am constantly reminded of the vital role the community has always played in the success of the Hospital—allowing the original vision and mission to continue today. We are grateful for the love the community has for Evangelical."
She continued, "I believe the sense of ownership among community members is key to the Hospital's continued success. And it is an example of what makes this region successful and what must continue going forward."
Setting the tone for the event, guest speaker Harvey Edwards, retired educator, spoke to attendees about his own appreciation of the opportunities presented to him by others in pursuing his education. To honor those opportunities, he intentionally devoted time to giving back through gifting his time and treasures along the way. In this way, he could pay it forward and carry on the legacy of presenting opportunities for others. Edwards spoke of inspiring today's youth in understanding how giving back creates something bigger for everyone and encourages a connection beyond themselves.
Receiving the Lifetime Achievement Award was Martha Barrick. The award recognizes an individual who has demonstrated more than 20 years of service as a volunteer and philanthropist to Evangelical Community Hospital and the greater community.
Barrick has been supporting the growth and improvement of the community for more than 50 years. In addition to her work for numerous non-profit organizations and causes, she began serving on the Evangelical Community Hospital Board of Directors in 1997, was named an Emeritus Board Member in 2014, and served as co-chair of the recent Enhancing the Evangelical Experience Campaign that raised more than $13 million to support the newest addition of the Hospital including private rooms and state-of-the-art care spaces.
Aucker stated in her presentation, "Martha is a trailblazing business owner who knows how to foster collaboration and get things done!"
Barrick is a strong community and regional advocate for Lewisburg and the Central Susquehanna Valley and has received numerous professional, leadership, and community service awards for her good work and service.

Other awards given recognizing contributions to the Hospital and the community-at-large were:

Philanthropist of the Year: Paul and Mildred John–The John Family Foundation
Philanthropy Advocate of the Year: John Griffith
Physician Philanthropist of the Year: Todd Stefan, MD, FACS, RPVI, Heart and Vascular Center of Evangelical
Business Philanthropist of the Year: REMMEY – The Pallet Company
Community Service Award of the Year: Diane Meixell
President's Awards:
Michael Daniloff, for his vision, leadership, and mentorship as President and CEO of Evangelical Community Hospital for 28 years.
Transitions of PA, for providing advocacy, empowerment, and education to victims, survivors, families, and communities to end patterns of violence and abuse.
Bucknell and Susquehanna universities, for providing cultural enrichment opportunities, building on the diversity of the region, contributing to the economic growth and stability of the area, and fostering robust discussions and innovative solutions to local challenges.
Geisinger, for joining Evangelical in making the health and wellness of the community we both serve a shared priority.
Cynthia Peltier, for cultivating an inclusive community and connecting people with health and human services as well as social, arts-affirming, and cultural programming through the CommUnity Zone.
Sue Auman, for empowering individuals and families to overcome poverty and achieve self-reliance through her work at the Union Snyder Community Action Agency.
Susan Jordan, for utilizing her role at Susquehanna Valley Mediation to support individuals, families, organizations, and communities in listening to one another and using their voices to address their challenges.
Dorothy Anderson, for making a positive impact in her community by volunteering, sharing her expertise, providing philanthropic support to causes near to her heart, and demonstrating civic engagement.
"The work of building a vibrant community is never done. Those we are honoring today are examples of individuals who are keeping a hopeful future in front of us. These are hard times but also extraordinary ones. We must remember, revive, and celebrate the principles that built our communities," Aucker said as she closed the event.