Evangelical Community Hospital Introduces New Directors
November 17, 2021
---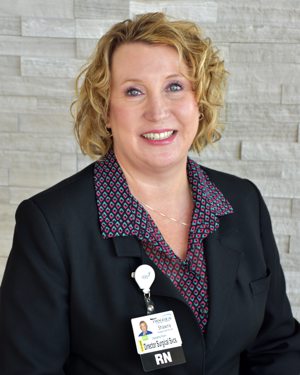 Shawna Heckman, BSN, RN
Evangelical Community Hospital recently introduced new and newly promoted directors to oversee operations within its Hospital and Primary Care practices.
Shawna Heckman, BSN, RN, has been named the Director of Surgical Services.
In this role, Heckman is responsible in the oversight of the day-to-day operational and clinical needs of the Hospital's Operating Rooms, Endoscopy Suite, and Central Sterile Reprocessing departments.
Heckman has been a member of the Evangelical family of employees since 2018. She first served as the Practice Manager of SUN Orthopaedics of Evangelical moving into the Nursing Surgical Services Manager position of the Evangelical Ambulatory Surgical Center in 2020.
Heckman received her Associate Degree in Registered Nursing and went on to earn her Bachelor's in Science and Nursing from the Pennsylvania College of Technology, Williamsport. She is currently pursuing her Master's Degree in Business Administration at Grand Canyon University, Arizona. She is a certified orthopaedic nurse and holds memberships in The American Society of PeriAnesthesia Nurses (ASPAN), The Association of periOperative Registered Nurses (AORN), and The Society of Gastroenterology Nurses and Associates (SGNA).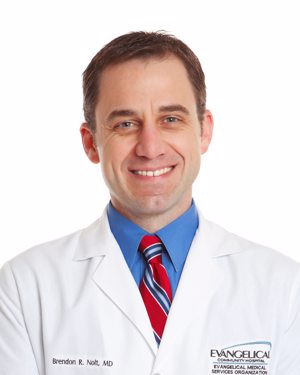 Brendon Nolt, MD
Brendon Nolt, MD, has been named Physician Advisor to Revenue Cycle. He is fulfilling this new position while maintaining an active role with the Evangelical's Hospitalist Group. He has been employed as a Hospitalist since 2010.
As Physician Advisor, Dr. Nolt serves as a liaison between Hospital administration, clinical staff, and support personnel to ensure compliance with regulatory issues, provide education, advise physicians, participate in audits and interpretation of data. This role assists Revenue Cycle leadership in reaching overall organizational goals related to the efficient utilization, documentation, and billing of health care services. In this position, Dr. Nolt also serves as a resource for staff regarding federal and state utilization and quality and documentation regulations and provides clinical insights to the Revenue Cycle team. In addition, he will serve as chair of the Utilization Review/Clinical Documentation Improvement Committee and the Performance Enhancement Committee.
Dr. Nolt received his Doctor of Medicine from University of Pennsylvania School of Medicine, Philadelphia. He completed his Internal Medicine residency at Thomas Jefferson University Hospital, Philadelphia, where he was a Chief Resident in the final year of his residency. As an undergraduate, Dr. Nolt obtained his Bachelor of Science in Biology at Elizabethtown College, Elizabethtown. He is certified by the American Board of Internal Medicine and is a member of the American College of Physician Advisors and The Society of Hospital Medicine.
Kelli Zimmerman BS, LPN
Kelli Zimmerman BS, LPN, has been named the Director of Operations – Primary Care Service Line with Evangelical Medical Services Organization.
In this role, Zimmerman provides oversight of Evangelical's nine primary care service line locations as well as Urgent Care of Evangelical. Her main areas of focus include strategic planning, budgeting, and coordinating and evaluating all aspects of operations of those locations.
Zimmerman began her healthcare career as a licensed practical nurse (LPN) earning her LPN and Associates Degree from PA College of Technology. She then completed her Bachelor of Science Degree in Business Healthcare Management at Western Governors University, Utah, and is currently pursuing a Master of Health Leadership Degree from the same institution.
Zimmerman brings to Evangelical more than 13 years of healthcare management experience. She comes to Evangelical from her most recent position as a Regional Manager of Health and Wellness with Geisinger Healthcare System.