Evangelical Community Hospital Recognized as StormReady® by the National Weather Service
October 01, 2021
---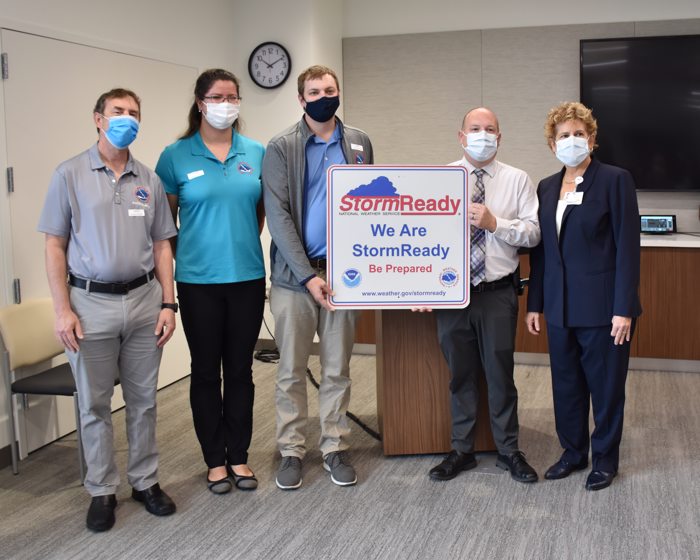 Michael Jurewicz, Rachel Gutierrez, and Stephen Travis, Meteorologists with the National Weather Service out of State College, present Evangelical Community Hospital's Matthew Exley, Manager of Environmental Safety and Security, and Kendra Aucker, President and CEO, with the National Weather Service StormReady® certification.
Evangelical Community Hospital recently became only the second hospital in Pennsylvania to gain full StormReady® status.
The StormReady® program helps community leaders and residents better prepare for hazardous weather and flooding. StormReady® communities have made a strong commitment to implement the infrastructure and systems needed to save lives and protect property when severe weather strikes.
"It's very important to Evangelical, as the area's community hospital, to do everything we can to be ready for all emergency situations that come our way," said Matthew Exley, EMT, PACEM, CHSS, Manager of Environmental Safety and Security at Evangelical Community Hospital.
"Our staff have to be prepared to not only care for individuals coming for treatment because of weather-related incidents but to manage patient care during a weather event such as tornado, hurricane, flood or snowstorm. These events bring unique challenges to the care setting including interruptions in essentials like power and water and, in extreme circumstances, evacuation," said Exley.
According to the National Weather Service some 98 percent of all presidentially declared disasters are weather related, leading to around 500 deaths per year and nearly $15 billion in damage. The StormReady® program helps arm America's communities with the communication and safety skills needed to save lives and property—before, during, and after the event. StormReady® helps community leaders and emergency managers strengthen local safety programs.
"Evangelical Community Hospital has undertaken great efforts to assure that their staff, patients, and visitors are prepared to receive information about and respond to all aspects of hazardous weather. This effort includes multiple methods of monitoring weather conditions, alerts and warnings issued by the National Weather Service, and the ability to disseminate hazardous weather threats through state-of-the-art technology and infrastructure," said Jonathan Guseman, Warning Coordination Meteorologist at the National Weather Service office in State College.
To be declared StormReady® the Hospital had to meet the following standards:
establish a 24-hour warning point and emergency operations center
have more than one way to receive severe weather warnings and forecasts and to alert the public
create a system that monitors weather conditions locally
promote the importance of public readiness through community seminars
develop a formal hazardous weather plan, which includes training severe weather spotters and holding emergency exercises
A StormReady® verification team recently visited Evangelical to confirm all requirements for certification were met.
As a StormReady® Hospital, Evangelical is better prepared to save lives from the onslaught of severe weather through advanced planning, education, and awareness.