Evangelical Graduates Fourth Nurse Residency Class
August 23, 2021
---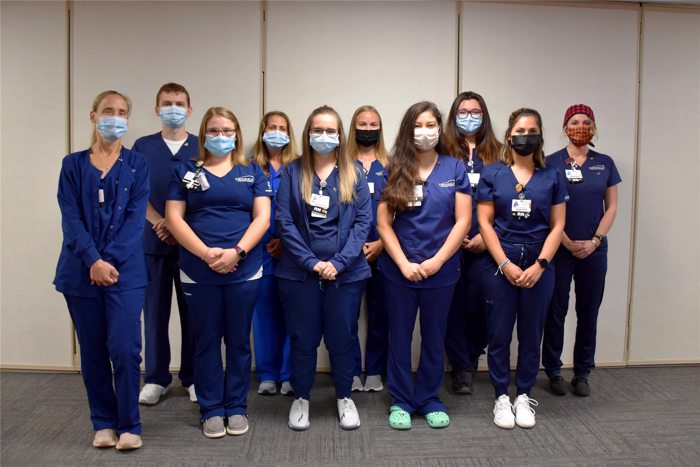 Pictured from left to right: Tiffany Hall, RN; Chase Hummel, RN; Amber Thomas, RN; Lauren Hepner, RN; Briana Kline, RN; MaKayla Miller, RN; Lillie Keefer, RN; MaKayla Keister, RN; Karley Gilbert, RN; and Echo Wertz, RN.
Evangelical Community Hospital recently presented certificates and Florence Nightingale lamp pins to graduates of it fourth class of Nurse Residency participants.
Evangelical's Nurse Residency program is designed specifically for newly graduated nurses (LPNs or RNs with less than one year of experience) and those nurses who are new to hospital-based care. Upon completion, nurse participants are given a nurse residency pin and certificate to acknowledge the hard work and dedication they have put in to become an Evangelical Nurse.
The Residency Program takes the skills learned during nursing school and softens the transition from graduate nurse to practicing nurse, lessening the stress of suddenly being in a direct-care environment with more experienced nurses. At the end of the program, participants should feel like they've moved from being a novice in the position to being an advanced beginner and assured the skills they are using maintain Evangelical standards of care.
Led by nurse educators and different clinical professionals from Evangelical, the Nurse Residency program helps with some soft skills like effective communication with both patients and other staff as well as instruction on how to deal with difficult health conversations for patients and their loved ones. In addition, the curriculum includes simulations, online instruction, case studies, scenarios, as well as hands-on instruction on things like medication passes, proper bedside reporting, wound care, pain management, and more.
Congratulations to Evangelical's Nurse Residency Program Graduates. May you have long and wonderful careers of caring for others!