President and CEO of Evangelical Community Hospital Receives Rural Health Leader of the Year Award
November 05, 2021
---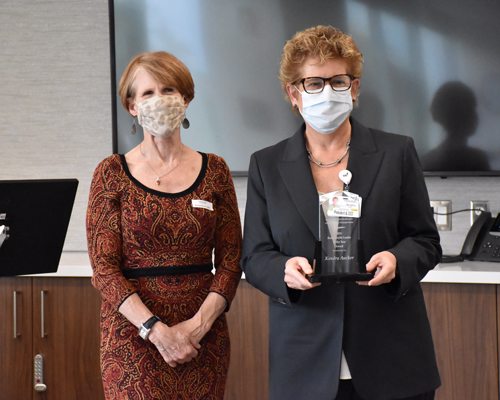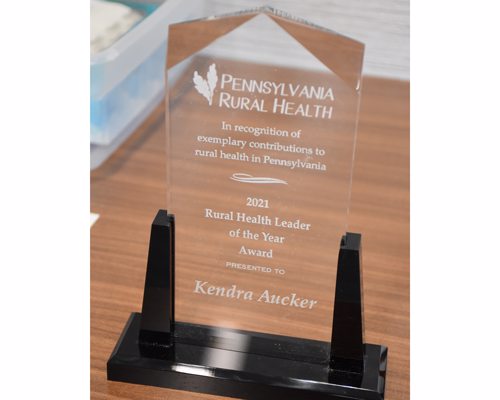 Kendra Aucker, President and CEO of Evangelical Community Hospital, received the Rural Health Legislator of the Year Award, presented by the Pennsylvania Office of Rural Health (PORH). The award was presented by Lisa Davis, director of PORH and outreach associate professor of health policy and administration at Penn State, during a ceremony on Nov. 4, 2021 at Evangelical Community Hospital in Lewisburg, PA.
The Rural Health Leader of the Year Award recognizes an exemplary health program that addresses an identified need in a rural community utilizing unique, creative, and innovative approaches.
The award was presented in recognition of National Rural Health Day, to be held on Nov. 18, 2021. Established in 2011 by the National Organization of the State Offices of Rural Health, National Rural Health Day is an opportunity to "Celebrate the Power of Rural" by honoring the selfless, community-minded, "can do" spirit that prevails in rural America. The day highlights the unique health care challenges that rural citizens face while showcasing the efforts of rural health care providers, State Offices of Rural Health, and other rural stakeholders to address those challenges.
The nomination, submitted by the Marketing and Communications Department at Evangelical Community Hospital, lauded Aucker's commitment and dedication to leading COVID-19 testing in the community and for her support of staff at the hospital.
The nomination noted, "When vaccines became available, the hospital was scheduling appointments for frontline workers and moved to offering vaccines to the public as quickly as possible through weekly clinics. Kendra Aucker was a vocal proponent for infection prevention mitigation efforts including: masking, social distancing, and staying home when sick. She also served as an advocate for local politicians and policy leaders, media sources, and more on the status of health care during the pandemic and the need for strong support of efforts to stop the spread of COVID-19."
Through Aucker's efforts, the hospital cared for the community and also for the staff, ensuring that both had access to the resources and supports needed during the pandemic.
PORH formed in 1991 as a joint partnership between the federal government, the Commonwealth of Pennsylvania, and Penn State. The office is one of 50 state offices of rural health in the nation and is charged with being a source of coordination, technical assistance, networking, and partnership development.
PORH provides expertise in the areas of rural health, population health, quality improvement, oral health, and agricultural health and safety. PORH is administratively located in the Department of Health Policy and Administration in the College of Health and Human Development at Penn State University Park.
Each year, PORH presents awards to recognize rural health programs and individuals who have made substantial contributions to rural health in Pennsylvania. To learn more about the Pennsylvania Office of Rural Health, visit porh.psu.edu.