Thyra M. Humphreys Center for Breast Health Adds Breast Surgeon to Comprehensive Team
September 29, 2023
---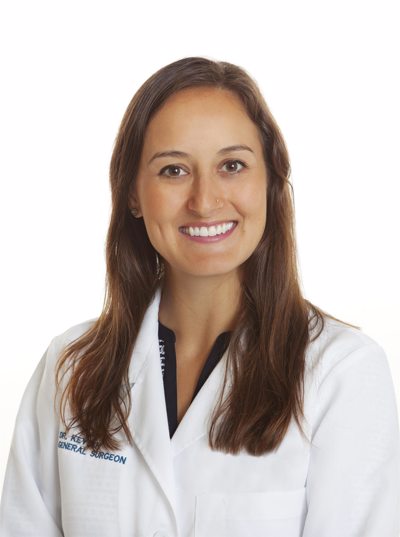 Daria Keyser, DO
The Thyra M. Humphreys Center for Breast Health has added a second surgeon to meet the specialty breast needs of women and men in the Greater Susquehanna Valley.
Daria Lin Keyser, DO, Surgical Specialists of Evangelical, joins dedicated breast surgeon, John Turner, MD, FACS, in consulting and performing breast-related surgeries for patients, as well as Morgan Curtis, PA-C, and the patient navigators at the Center as they guide patients through a breast cancer diagnosis and journey in survivorship.
Dr. Keyser, who has been meeting the needs of patients at Evangelical as a General Surgeon since her arrival in 2017, will continue in that capacity while also devoting time as breast surgeon to the Center for Breast Health.
As a general surgeon, Dr. Keyser specializes in the preoperative, operative, and postoperative management of patients with a broad spectrum of diseases, including those which may require non-operative, elective, or emergency surgical treatment. Prior to Evangelical, she performed breast surgeries at UPMC Susquehanna, Soldiers and Sailors Memorial Hospital, Wellsboro.
In 2019, Dr. Keyser joined Evangelical Community Hospital's Cancer Committee and served as the primary representative for surgeons. In 2020, she was appointed as the Cancer Committee Chair and continues to serve in that role as well as serving as an alternate representative for surgeons.
Dr. Keyser received her Doctor of Osteopathy degree from the Philadelphia College of Osteopathic Medicine. She completed her general surgery residency at the Medical College of Georgia. She is board certified in general surgery by the American Board of Surgery.
To learn more about the program at the Thyra M. Humphreys Center for Breast Health, visit www.EvanHospital.com/BreastHealth or call 570-522-4200 to schedule a mammogram or for more information.