Evangelical Community Hospital Hosts 36th Annual Lights of Love to Support Hospice of Evangelical
November 09, 2023
---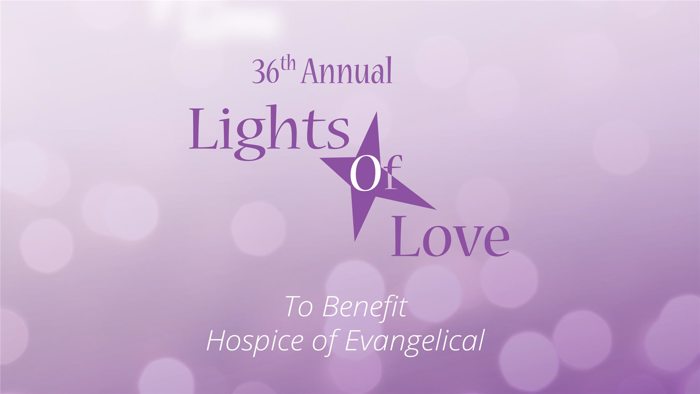 Evangelical Community Hospital is holding its annual Lights of Love giving campaign to support Hospice of Evangelical. Throughout November and December, gifts will be collected to support direct care and provide resources to patients and their families who are experiencing end-of-life needs.
Lights of Love offers an opportunity to honor and remember family, friends, and loved ones by placing their names on the honoree listing.
The Lights of Love tree will make its debut on December 3, 2023, and then shine brightly at Hospice of Evangelical throughout the month of December. Honorees and donors will be recognized in The Daily Item in January 2024 and special notifications will be provided to donors to share with honorees or their family members.
Individuals wishing to make monetary donations to the 36th Annual Lights of Love in support of Hospice of Evangelical can do so through December 29, 2023. Donations can be made by visiting www.EvanHospital.com/LightsOfLove or by calling Philanthropy and Donor Relations at 570-522-2685.
The 2023 Lights of Love Honorary Chairperson is Ruth Cantiluppi, whose husband, Carl, received his care through Hospice of Evangelical. The annual Lights of Love Tree video, featuring the story of the Cantiluppis, will be available beginning December 3, 2023.
Professionally, Carl earned a master's degree in agriculture and worked as an Extension Agent, focusing on asparagus. The Hospice staff who cared for Carl, witnessed his love for agriculture and helped him manage his care so he could continue doing what he loved. While Carl and Ruth navigated their hospice journey, they accepted the support of the social worker, nurses, aides, and volunteers to meet their changing physical and emotional needs. As their needs changed, Ruth found comfort in knowing that help was just a phone call away and appreciated the emotional support staff and volunteers provided to her as a grieving wife.
Ruth and Carl's journey is an example where Hospice of Evangelical played a vital role in providing the highest quality of life through the right care given at the right time.
To learn more about the services of Hospice of Evangelical, including when the right time is to consider Hospice for a loved one, visit www.EvanHospital.com/Hospice.