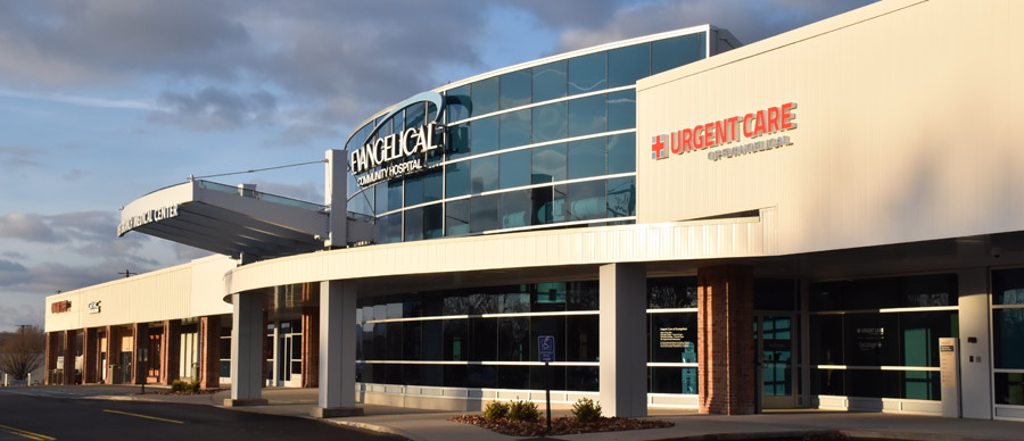 Hours:
Urgent Care of Evangelical welcomes patients 8 am-7 pm, seven days a week pending staff availability. To inquire about availablity of care, call 570-523-3006.
Urgent Care of Evangelical offers lower-cost care with extended hours, efficient patient flow, and shorter wait times in a no-appointment-needed environment.

Located in the West Branch Medical Center at 7095 West Branch Highway (Rt 15), Lewisburg, Urgent Care of Evangelical is the only urgent care center between Lewisburg and Shamokin Dam.
Choose urgent care for these and other non-life-threatening injuries and illnesses:
Sprains and strains
Minor breaks (wrist, hand, ankle, or foot – not obviously severe and not breaking skin)
Colds, coughs, sore throat, allergies, and minor flu symptoms
Fever (not accompanied by rash)
Vomiting or diarrhea
Cuts, not severe, but may need stitches
Skin rashes and infections (without fever)
Urinary tract infections
Eye irritation and redness
Call 911 for these and other serious injuries and illnesses:
Possible signs of a heart attack, including chest pain, discomfort in one of both arms, the back, neck, jaw, or stomach; cold sweat, nausea, or lightheadedness
Difficulty breathing
Any severe pain, particularly in the abdomen
Signs of a stroke, including sudden numbness, weakness, or paralysis, especially on one side of the face or body, face drooping, headache, confusion, impaired vision, trouble walking, dizziness, loss of balance or coordination.
Altered mental status or confusion
Sudden, severe headache
Sudden change in vision
Newborn baby with a fever (a baby less than three months old with a temperature of 100.4 degrees or higher needs to be seen right away)
Broken bones or dislocated joints
Deep cuts or wounds that won't stop bleeding
Head or eye injuries
Severe flu or cold symptoms
High fevers or fevers with rash
Severe and persistent vomiting or diarrhea
Serious burn
Location
Urgent Care of Evangelical is located in the West Branch Medical Center, along Route 15 in Lewisburg, just south of the Hospital. The Center features convenient parking and easy entrance to the office.