ACL Repair Returns Local Woman to Being the Best Mom, Player, and Coach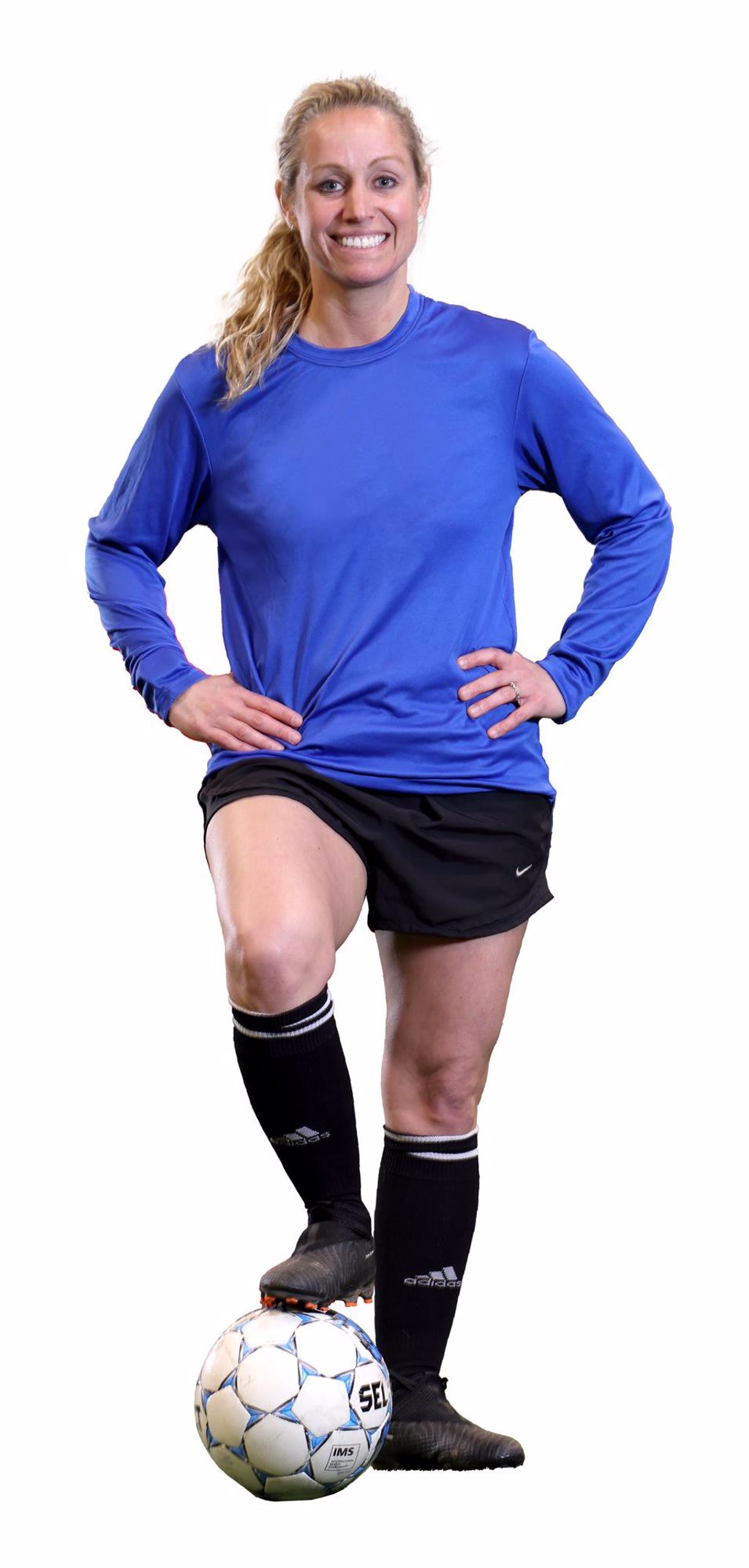 For Cheryl Underhill, 38, Winfield, soccer has been a way of life for as long as she can remember. A soccer athlete as a child, high school, and college, she continued that love for the sport into post-school life, continuing her play in a women's league and currently coaching at Selinsgrove High School. Her daughters, age 5 and 8, also play and she coaches their teams too.
"I've been playing a long time, so in the fall of 2021, when I was playing in my league at Sports Zone, I never thought that would be the day I would tear my ACL," said Cheryl.
The anterior cruciate ligament (ACL) is one of the key ligaments that help stabilize the knee joint and can often be injured or torn by sudden twisting motions, like those associated with soccer play.
For Cheryl, the left knee injury was immediately known and painful. "It was clear from the moment it happened I did serious damage, completely tearing the ACL." The obvious inability to play was there, but what was more disheartening was the way it impacted her way to be a mom.
"I struggled going up and down stairs," she said. "That's not where you want to be when you need to take care of your kids."
Cheryl met with Matthew Reish, MD, SUN Orthopaedics of Evangelical, someone she knew had a good reputation for dealing with soccer injuries and the knees in general.
"My approach as a physician is to talk to the patient about not only the injury, but what they see on the other side of healing," said Dr. Reish. "I talk them through what their goals are, how they relate to the injury they have, and what is reasonable through treatment and recovery. It's important to understand where we are and where we're going."
"I felt very comfortable with the plan Dr. Reish came up with for me and my recovery, knowing my goal was to get back on the field. I loved that I was told everything to expect before, during, and after surgery."
Not only that but Cheryl was impressed with the quick scheduling of the surgery as well as the forethought to be fitted and go through the process of having an ACL brace created that she could use immediately after surgery.
Surgery was in January 2022. Cheryl was equally impressed by Hospital staff during her same-day surgical experience. "I had pain when I woke up from the way my body handled the pain block and since there were still visitation restrictions in place because of COVID-19, I was alone. Every person I encountered—from Dr. Reish to the nurses and others in recovery—made sure I was comfortable and comforted."
Two to three days after surgery she was back at SUN Orthopaedics for follow-up and scheduling of rehabilitation at the Selinsgrove location of Physical Therapy of Evangelical. "They were so flexible and worked around my schedule. As a first-grade teacher in Danville, they had me in my brace, on crutches, and back to work in a week."
Through physical therapy appointments and exercises she was shown how to do properly on her own, Cheryl was cleared to do all activities in 11 months.
"My knee feels as close as you can get to 100 percent—zero pain, zero issues, minimal scarring, and I'm back to full play with my women's league."
One of the outcomes is a richer sense of connection as a coach.
"Now that I have gone through an ACL injury, I can better help my players work through their own ACL injuries. I can reassure them that it doesn't have to be the end of a playing career and that if I can go through it and recover, so can they."
To learn more about sports medicine at SUN Orthopaedics of Evangelical, visit www.EvanHosptial.com/SportsMedicine or call 1-800-598-5096.